Tattoo Rue
Celebrity skin art with a half-life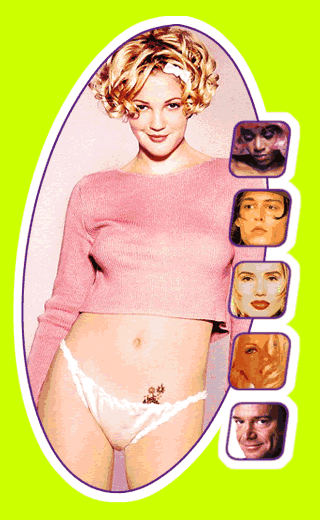 In Hollywood, where the length of most love affairs is shorter than Mini-Me's pants, tattooing a lover's name on your body seems painfully optimistic. But this is a town that thrives on optimism (witness the revival of the decrepit Rocky franchise), and enamored celebrities continue proving their love through ink-stained, blood-encrusted self-mutilation.
But once the relationship crashes and burns, red-faced stars must decide how best to deal with the permanent etching of their not-so-endless love. Cover it up with another tattoo? Remove it? Leave it as is? Here's how some famous faces dealt with the predicament.
Creative Spelling
Back in 1991, Johnny Depp tattooed "Winona Forever" on his upper right arm in honor of girlfriend Winona Ryder, proclaiming, "I love Winona. I'm going to love her forever. Putting her on my arm solidified it. Tattoos are extremely permanent."
Ah, the hubris of the young, rich, and impetuous. After the couple broke up, doltish Depp decided to rewrite history by having the last two letters of his former love's name inked over, leaving him with the decidedly unsentimental, although perhaps more appropriate, "Wino Forever." (Depp reportedly dropped close to $18,000 on a single bottle of wine at a London restaurant back in February.)
Pamela Anderson Lee said she didn't need a wedding ring from rocker Tommy Lee because big diamonds are really about a man's insecurity over his "little thing" (a problem Tommy doesn't have, if you've checked out their best-selling honeymoon video). Instead, the deflated VIP star had "Tommy" tattooed on her finger, with her hubby paying tribute to her in similar fashion (he also inked her name on his -- ouch! -- penis). But after Tommy landed in the pokey for assaulting her, Pam filed for divorce and had her "ring" altered to read "Mommy" (the couple has two sons).
After Tommy was released, he too had his finger band covered up (no word on whether "Big Tommy" went back under the needle). Of course, now that the dysfunctional duo is back together, it's anyone's guess what body art, genital or otherwise, may follow.
Flower Power
After a checkered dating history that included a ruptured eardrum from a violent ex-lover, Halle Berry thought she'd found the "one" in baseball star David Justice. The actress tattooed the slugger's name on her shapely derriere, but when the marriage ended in a nasty divorce, she had the offending lettering covered up with a large sunflower.
A Pain in the...
There was a time when you couldn't get Roseanne and Tom Arnold to keep their pants on, so proud were they over their matching cheek-to-cheek tattoos. But after their bitter split in 1994, Roseanne reportedly had the "Property of Tom Arnold" on her butt covered up with another tattoo, but not before Arnold joked that the claim made him the fourth-largest property owner in California.
Arnold, on the other hand, opted to have his tattoos (a picture of Roseanne's face on his pec, the name "Rosey" on his rear, as well as two other Roseanne-related tattoos) completely removed through laser surgery.
Take It All Off
While the basic tattoo cover-up starts at $40, the laser procedure can be pricey, prolonged, and painful. It can take five or more sessions to remove a medium-sized tattoo, with each treatment ranging from $150 to more than $300, depending on the size and color of the artwork. The procedure is often compared to being rapidly splattered by cooking grease or a welding spark.
Geena Davis decided to laser off the inked reminder of her marriage to director Renny Harlin, who nearly destroyed her career with a couple of back-to-back flops (Cutthroat Island, The Long Kiss Goodnight). The Oscar-winning actress and competitive archer engraved a cherub and Harlin's first name on her ankle, but when the filmmaker 'fessed up to fathering a child with his assistant, she kissed her marriage and both markings goodbye.
Love 'Em and Leave It
Of course, not every celeb wants to blot out the past. TLC's Lisa "Left Eye" Lopes is still sporting a large falcon over the number 80 on her left arm, a remnant of her incendiary affair with former Atlanta Falcon Andre Rison (the songbird set fire to Rison's $2 million Atlanta mansion). Rison still bears a tattoo of a left eye on his chest, but denies that it has any connection to his former flame.
And some stars just get lucky. Drew Barrymore's 1992 engagement to now-obscure heartthrob Jamie Walters lasted barely six months -- and her tattoo of his name on her lower back didn't make it much longer. The colors bled together, making it unreadable.
Despite the numerous tales of tattoo woe, the perma-inking fad isn't waning in Tinseltown. Gia star Angelina Jolie reportedly had an "H" tattooed on the inside of her wrist in honor of beau Timothy Hutton. But in keeping with the trend, the Jolie-Hutton love affair proved less constant than the marking: They've reportedly just split up. But as Jolie explained recently to Rolling Stone, "There are two people in my life who have this letter who I'm very close to and who I sort of love and cherish." Here's hoping the other "H" is a relative.
Kat Giantis writes about popular culture, even though she lives in Seattle.