Reel Geniuses
A spotlight on Hollywood's brightest bulbs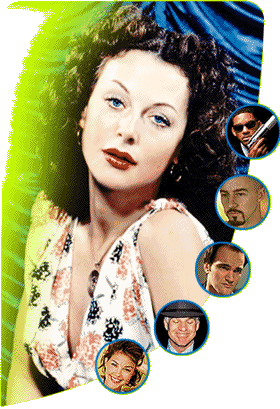 The term "Hollywood intellectual" usually falls into the same lot of oxymorons as "jumbo shrimp" or "50-something leading lady." After all, this is the town that brought us Pamela Anderson Lee, who said back in June that her once-estranged hubby Tommy had been "neutered or spayed. What do you call it?"
The word is vasectomy (others may call it a boon to the gene pool), but the point is made: While Tinseltown may have many bright lights, most are not over the heads of the stars.
With Martin "You So Crazy" Lawrence recovering from his recent coma-inducing jog, it seems the perfect time to prove that there are actually some very smart thespians among us. Herewith, a few of the brightest bulbs in the bin.
Liberal Artists
Although Steve Martin decided to forego his college philosophy studies ("What am I going to do, open a philosophy shop?"), there are stars who've put their liberal arts educations to practical use: Their foreign language skills wow journalists when promoting projects overseas.
Edward Norton. The Fight Club star is well-known for his silver tongue (he has alternately described acting as becoming an "empathetic sponge" and being an "experiential dilettante") and intellect: He graduated from Yale with a BA in History and speaks fluent Japanese.
Jodie Foster. The two-time Best Actress Oscar winner was valedictorian of LA's exclusive Lycée Français, delivering her commencement address in French. Foster went on to graduate magna cum laude from Yale with a degree in Comparative Literature. The true test of her intelligence is yet to come: Will she decide to take a pass on the gruesome and pointless Hannibal?
Ashley Judd. One of the few stars who could give Edward Norton a run for his money in the vocabulary department (she reads the dictionary for fun), the daughter of Naomi and sister of Wynonna graduated Phi Beta Kappa from the University of Kentucky with a degree in French. (We'll overlook her dalliance with former mullethead Michael Bolton.)
High IQs
Those who still brag about their SAT scores might be surprised to find there are some genuine celluloid geniuses. Of course, high IQs don't always equal brilliant personal and professional decisions.
Quentin Tarantino. The violence-loving high school dropout's underrated Jackie Brown fizzled at the box office, and he was eviscerated by critics for his '98 Broadway acting debut in "Wait Until Dark." But never fear, with his 160 IQ, there's little doubt the big brain Pulp Fiction auteur will once again wow us with his command of the pop culture lexicon.
Sharon Stone. The blond bombshell claims she didn't realize they were filming her "down there" during her pantyless, leg-crossing in Basic Instinct, but with her 154 IQ, that's a bit hard to believe. Stone, who's hoping The Muse will break her string of turkeys (The Mighty, Gloria), sailed through the qualifying exam for "intellectual society" Mensa.
Geena Davis. Maybe tattooing the first name of now ex-husband Renny Harlin on her ankle and starring in the atom-bomb Cutthroat Island were not the mark of a scintillating intellect, but the Oscar-winning actress and competitive archer is actually quite the smart cookie, and, like Stone, is a member of Mensa.
What-Might-Have-Beens
Dr. Kudrow? Professor Smith? Academia might have been a lot easier on the eyes had these hotties stuck with their early egghead leanings.
Lisa Kudrow. Instead of inducing headaches warbling "Smelly Cat" as ditzy Phoebe on Friends, Kudrow might have ended up curing them. The actress earned a BS in Sociobiology from Vassar with the intention of becoming a doctor like her father, one of the nation's leading headache experts.
Will Smith. Wild Wild West turned out to be a major major dud, but it's unlikely $20 million-a-movie man Smith has any regrets about turning down a computer science scholarship to pocket-protector ground zero MIT.
David Duchovny. The ultra-laconic X-Files star earned a BA in English Lit at Princeton, a Masters at Yale, and was just a dissertation (on Magic and Technology in Contemporary Fiction and Prose) away from his PhD when he landed his first acting gig -- a Lowenbrau commercial.
In a Class by Themselves
Two Hollywood actresses are so far above their acting peers in the brains department they deserve their own category.
Danica McKellar. Best known as the awkward yet adorable Winnie Cooper on The Wonder Years, McKellar graduated summa cum laude from UCLA in 1998 with a degree in Mathematics. Probably the only actor who can claim publication in Britain's Journal of Physics A: Mathematics & General, she co-proved the theorem, "Percolation and Gibbs State Multiplicity for Ferromagnetic Ashkin-Teller Models in Two Dimensions." All together now... Huh?
Hedy Lamarr. Would you believe that this actress, once dubbed "the most beautiful girl in the world," helped create the technology behind the ultimate Hollywood fashion accessory -- the cellular phone? The glamorous star of such films as Samson and Delilah (1949) and the erotic Ecstasy (1932), holds the patent on which wireless data networking is based.
Kat Giantis writes about popular culture, even though she lives in Seattle.