Hurricane Floyd Leaves Bumper Crop Of Magic Mushrooms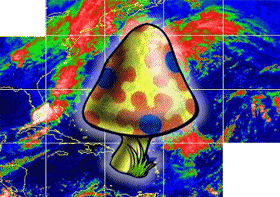 Olympia, Wash. (Wireless Flash) -- Hurricane Floyd may have been bad for homeowners but it's been great for hippies.
According to mushroom expert Paul Stamets, recent storms are causing a bumper crop of hallucinogenic mushrooms to pop up between North Carolina and Florida. Stamets, who collects and identifies mushrooms at The Evergreen State College in Washington, says hurricanes are traditionally great for mushrooms, especially the so-called "magic" kind.
For some reason, the magic mushrooms tend to proliferate in the landscaping bark often found near government buildings and industrial parks. Although 95 percent of magic mushrooms are safe to eat, Stamets doesn't recommend eating any wild mushrooms unless you're an expert on the fungi.