Hamsters Mate with the Cuban Boys
They're England's newest hit-maker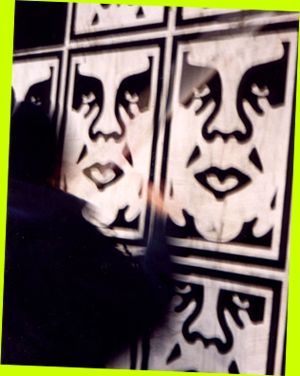 They've had minimal American airplay on scattered local alternative radio shows. But the Cuban Boys are blowing up in the U.K. where their single "Cognoscenti vs. Intelligentsia" -- based on a sample of a Roger Miller song from a Disney cartoon -- has become the most-requested track on John Peel's BBC Radio 1 show in over two decades. There's just one problem. "Only one copy exists," band-member "Ricardo Autobahn" told GettingIt, "and John Peel has that at Radio 1."
The single's popularity landed the band a meeting with record label EMI. But will it lead to a bona fide music-industry contract? That might be tricky considering the unusual nature of Cuban Boy "songs." Cuban Boy tracks often consist of cheeky, deconstructive samples from pop culture flotsam. "Writing pop songs is easy," the band told one British television station. "Rebuilding old ones is hard." Pop culture violations only add to the band's mystique. Their line-up remains a bit of a mystery, and interviewers have found them alternately bombastic, evasive, and even prickly.
But the Boys were surprised to receive interest from America, and the anonymity of the Internet induced a feeling of cordial spontaneity in the Cuban Boys when GettingIt contacted them in May. "We keep doing interviews via email," band-member "Ricardo" observed, "and they always seem to work rather well, so now we're thinking of insisting upon them."
GETTINGIT: Okay, I just got through listening to "Cognoscenti vs. Intelligentsia." What message do you think the song sends?
RICARDO AUTOBAHN: Pop music, kids! It's the future!
GI: So how do you feel about singer Roger Miller?
RA: Didn't he have a trailer for sale? Or was it rent?
GI: Er, okay. But how did you discover that "Doo doo doo" sound sample that makes up the main body of the track?
R: We lumbered across the Hamster Dance site by accident. Immediately, we said, "Oh, we'll have that" -- and the sample was stored in my computer for about two months.
I think it was mentioned in a newspaper around the start of January. Jenny [McLaren], our singer, had noticed it and said, "That looks comical." When we finally wrote the song itself, we sent it to John Peel just for a laugh -- he'd played our earlier material. We never thought he'd play it.
Then all hell broke loose.
GI: "All hell broke loose"? That seems a little melodramatic. What, specifically, are you referring to?
RA: We've just had an unbelievable response from people about the record. I mean, last year we did a similar thing. We pressed up one single copy of a "South Park" influenced record called "Oh My God! They Killed Kenny" and it got such a massive response from radio listeners it was voted the sixth best record of 1998 on Radio One, before it was even released.
"Cognoscenti Vs. Intelligentsia" has gone way beyond that. John Peel, the top national DJ who keeps playing our stuff, says he's got thousands of e-mails backing up, mostly requesting information on us.
GI: Yeah, that's another thing. John Peel says that, amazingly, you've got the most-requested song since "God Save the Queen" by the Sex Pistols. So how would you compare yourselves to The Sex Pistols?
RA: We've got better hair...actually, no we haven't.
GI: One thing's been bothering me. Why the name "The Cuban Boys?" I see no evidence that you're Cuban. And some of you aren't even boys.
RA: Arf! It's turned out to be a particularly bad choice of name. On July 2nd last year, myself and Skreen decided to form a pop group. We had one tune, which was based on a sample of Frank Chacksfield's "Cuban Boy," so we made some demos but had no name. So we packaged them up under the name Frank Chacksfield & The Cuban Boys, just as a stopgap affair.
We lost the Frank Chacksfield bit almost immediately, and as the whole thing started snowballing we realized how incongruous the name was.
Also, we like cubes. Rock on!
GI: Okay, one last question. Do you have future plans to respond to the popularity of "Cognoscenti Vs. Intelligentsia "?
RA: Of course -- "Cognoscenti Vs. Intelligentsia 2002 -- The Third Anniversary Remixes" will be our big comeback hit after three years in the wilderness, and of course there'll be the Greatest Hits compilation "Cognoscenti Vs. Intelligentsia and some other songs."