Long Live Sexy Women
Bone-inspiring babes beyond year 40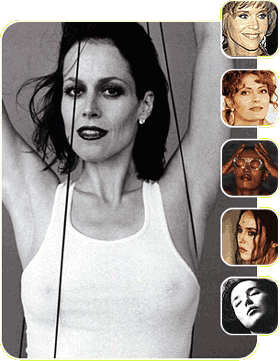 Erotic older women have become a titillating topic ever since Rene Russo, 45, started cooking up the celluloid in The Thomas Crown Affair. Experience is arousing and wrinkles are racy for anyone worshipping middle-aged goddesses. For the nonbelievers, I present a personal Top 10 pantheon of fabulous 43+ tasties.
Sigourney Weaver -- If you're wild for wiry, no-nonsense dames who specialize in wasting alien monsters, "Siggy" is the 49-year-old lioness for you. Fools whine that Linda Hamilton deserves mention, but Weaver blows Ms. Terminator away in the "Looks Hot Carrying A Big Machine Gun" category. Her smoldering nihilism in The Ice Storm also suggests that she'll romp with lucky stiffs who find her car keys.
Isabelle Adjani -- I drool in francais when I voyeur this femme magnifique, who exudes teenage succulence at age 44. Ms. Adjani -- passionately displayed in Queen Margot -- inherited her exotic features from Algerian and German parents. My opinion: Daniel Day-Lewis was tres stupid to abandon Isabelle, after impregnating her with a son.
Anita Hill -- She's 43 and terminably prim, but I can't drink a Coke without wanting to park pubic hair on the can for her. I sympathize with her ex-employer's obsessions when I gaze at Ms. Hill's educated physique, and her gentle, litigious eyes. And when her soft, husky voice repeats the judge's filthy comments? SCHWWIING! Clarence Thomas trial transcripts are hotter than the Starr Report!
Susan Sarandon -- Tough, smart, and stacked at 52. Her wet-eyed, warm-lipped visage exudes bedroom vulnerability even when she's pretending to be a nun in Dead Man Walking. I've loved her ever since her bosom bounced joyously in The Rocky Horror Picture Show. She's liberal too, in case you feel like saving the world after sex.
Imelda Marcos -- The ex-Miss Manila and parasitical "Empress of the Phillipines" is a crooked, curvaceous old sex-cookie at 70. She's also back in politics, she was elected a legislative representative from her native district of Leyte. She's rich enough to maintain the best figure dirty money can buy, and foot fetishists can masturbate in her thousands of shoes.
Jane Fonda -- If you've ever sneaked a peek at your mom's exercise videos, or seen her in the slinky Barbarella costumes, you've been lusting for "Hanoi Jane" for decades now. She's a firm, foxy 61, still campaigning for provocative issues, like birth control. The juiciest perk in a Jane fling would be cuckolding a billionaire -- Ted Turner might chop you up with an Atlanta Braves tomahawk.
Charo -- Sure, she's an irritating Spanish bimbo-blonde with her coquettish "cootchie-cootchie" come-ons, but her voluptuous 48-year-old geography is a harbor you happily hope to cruise your Love Boat into. If the lusty liner crashes, you can float ashore safely on her pontoon pectorals.
Grace Jones -- Perhaps she's actually a gay man or Carl Lewis' twin, or both, but so what? At 51, she can still break bricks on her butch butt, and crack skulls between her ripped quads. If you're lucky, you can rest your drink on her flat-top while you wrestle with her powerful lips.
Maggie Thatcher -- The "Iron Maiden" is a ripe, raunchy 74 now -- if you have submissive fantasies about getting your naughty bare bottom spanked by a mean old school-marm. Imagine her in a black bustier, cracking a bullwhip on the butts of the Argies or Irish!
Aung San Suu Kyi -- This 54-year-old Nobel Peace Prize laureate is a huge-hearted, articulate, tantrika-faced beauty -- still ravishing after six years of political imprisonment for spearheading the democracy movement in her native Myanmar (Burma).
Honorable Mention:
Elizabeth Dole -- Best 63-year-old legs in the 2000 presidential race, even though she'll definitely lose to the coke-head. I don't understand why hubby Bob needs Viagra, unless he's got a war wound that was never revealed. If anyone has a heart attack humping Libby, she knows the Red Cross phone number.
Too "Immature" to Qualify:
Michelle Pfeiffer -- Imagine waking up with her pretty face on a pillow beside you. Angels in heaven must resemble this blue-eyed, 42-year-old blonde.
Geena Davis -- She's studying archery at age 42; I wish I were the target of her long-legged, pouty-lipped intentions.
Hank Hyena is a columnist for SfGate.comand SfMetropolitan.com, and a frequent contributor to Salon.