Bizbuzz
Circus freaks, Calista Flockhart, crush videos, and more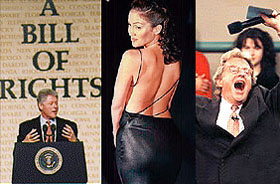 Freak out. It's the sad end of an era. Reuters reports that Jim Rose, the man made famous by his freaky circus of sideshow acts, is calling it quits. Over the years Rose's show "Secrets of the Strange" has included Mexican transvestite wrestlers, a woman who blows fire from her ass, and men who make origami with their genitals. Rose says he's grown bored because his co-workers no longer seem deviant. He is considering a career in politics.
Onto more weighty subjects. Calista Flockhart likes older men! E! Online reports the actress, who was once romantically linked to Ben Stiller, may have a new, more mature love interest. Rumor has it that the Ally McBeal star has been spotted spending a lot of time with a man in his 50s. My god, that's more than twice her weight!
Dead air. The lead singer for the Spin Doctors has been silenced. Chris Barron has been diagnosed with what doctors are calling "vocal chord paralysis." The condition makes both speaking and singing impossible. Now if only the Backstreet Boys would become afflicted with it.
The secrets of success. USA Today reports that the success of The Blair Witch Project is forcing industry executives to rethink their current advertising strategies. Mike De Luca, president of production at New Line says in his lifetime he's "...never seen a film marketed so well." Come on, if the film's marketers were really so brilliant, they would have asked Pepto-Bismol to be the official sponsor.
Cartoons in court. The Associated Press reports that The Canadian Broadcast Standards Council rejected a complaint of a woman who said an episode of the Bugs Bunny and Tweety show was anti-woman. The cartoon in question showed an evil witch morph into a lovely female rabbit, to which Bugs exclaims, "Ah sure, I know! But aren't they all witches inside?" In a related case, the National Organization for Women claims Tweety is a misogynist. The bird's referring to Sylvester as "pussy" apparently offends the group.
Smells fishy. Chastity Bono is starting a new business venture. Star Magazine reports Chastity wants to start her own line of fragrance aimed at the lesbian community. The name of the new perfume will play off the names of other popular scents like Christian Dior's "Poison" and Elizabeth Taylor's "Passion." The scent will be called "Poisson," which is French for fish.
What's in a word? The New York Post reports that in an effort to be more politically correct, the Screen Actor's Guild has adopted some new language. Spokespeople for SAG say the word "extra" is being replaced with "background actor" because the Guild feels "extra" has become debased over the years. Also on the list of updated words, the "casting couch" will now be referred to as a "love seat."
I've got a crush on you. TV Guide online reports Mickey Rooney voiced his support this week for a congressional bill designed to impose prison terms for the sale of "crush videos." The actor publicly condemned the porn flicks in which women wearing high-heeled shoes crush rodents and other small creatures under their feet. Rooney first became aware of the videos when he was asked to participate -- as a crushee.
Melissa is a disc jockey at WBCN-FM and a music news reporter for Rage TV, both in Boston. She hopes someday to be a celebrity in her own right, and promises BizBuzz an exclusive.