Bis Get Wrinkly
Scot pop phenom lose their teen cherry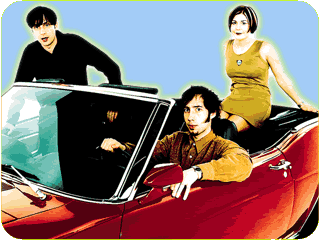 This is what I knew about Bis before I met them: They were huge teen idols from Scotland who bounced around a lot on stage; they were on the Beastie Boys' label, Grand Royal; they had a young, super-hip, pop-addicted fan base in the U.S.
After I met them in Glasgow last year, I realized they were already too mature for their teddy bear image. Now, much to everyone's surprise, the three pop stars are old enough to drink, but they're still in business. They did the theme song for the Power Puff Girls and with a hot new album, Social Dancing, they've got their sights set on U.S. domination.
How does this all fit with their teen superstar beginnings? I talked with two-thirds of the Bis nation, Sci Fi Steven and Disco John, after their recent show at San Francisco's Great American Music Hall.
GETTINGIT: How old are you?
SCI FI STEVEN: I'm 23.
GI: Wow!
SFS: Yeah, I know, I'm old. John's just turned 21, we had his party just before we left. And Amanda's 22.
GI: It's almost like Bis are the elder statesmen of Glasgow rock, the rest of the country is catching up to you.
SFS: If I'm an elder statesman at 23, it's going to be great. When I'm 40 people will think I'm 60 and I'll be like "fuck you, I'm 40!"
GI: You look so self-assured up on stage, you seem so mature.
SFS: Because we know they all want us.
GI: Do you get tired from jumping up and down all through the show like that?
DISCO JOHN: Not really. Afterwards, you feel the adrenaline. Oh, that sounds very rock, doesn't it?
GI: What's your favorite rock cliché?
DJ: The Pete Townsend star jump and windmill.
SFS: I like when you use your guitar as a penis. The triple prong: when the three guys do it at once.
DJ: The Steve Harris?
SFS: Yeah, Steve Harris from Iron Maiden.
GI: Do you have any comments on the Bis revolution now that you're not teenagers anymore?
DJ: It will still be on television. But only Channel 2.
SFS: We named our revolution the Teen-C Revolution at first, and this was when we were all teenagers. That was our manifesto. We've handed it down a generation. Now it's up to the kids who got inspired by us to do what they want with that philosophy.
GI: So Bis can unite the world?
SFS: Absolutely.
GI: Like a Coke commercial?
SFS: Like a long distance telephone card. Ten cents a minute.
GI: The Bis network! The Bis empire!
SFS: The Internet of gigs!
GI: You guys seem kind of the same as when you started, but Amanda, you've watched her grow to a woman.
DJ: Yeah, we just watched her the whole time in a cage.
SFS: Grow!
DJ: Grow!
[Laughter]
DJ: I think we've changed a bit as well.
GI: How have you changed?
DJ: Well … you know.
GI: You can drink legally now in the U.S.
SFS: That's about it. And John's got sideburns.
GI: You guys did the theme to the Power Puff Girls, right?
SFS: Yeah. The guy who does it is a really big fan and he got in touch. We knocked it out in a day. It's ironic that we did a cartoon theme song, just as we're kind of... not moving away from our previous image, but trying to be a bit more serious. Everyone was going, "you're such a cool cartoon band!" and we're like, "Fuck off. We write songs and play music, but we're not a cartoon!" But then we did a cartoon theme song. Just knock all that down.
GI: Yeah. Fuck the Man.
SFS: The Cartoon Network put out a CD with the song on it and didn't give us any credit. They credit three guys as being the main writers when we were the writers.
GI: Those bastards!
SFS: Nasty shit.
GI: They stole from you! So direct all your hate mail to the Cartoon Network.
SFS: They're okay. I want a big inflatable Power Puff Girl.
GI: What for?
S: [Smiles sheepishly] I don't think I can answer that.
Sarah Jacobson
is a writer/filmmaker.