Bizbuzz
Denise Richards, Stone Temple Pilots, Jerry Springer, and more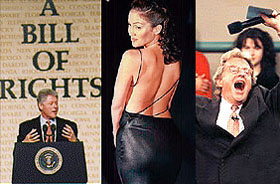 She wears short shorts. Denise Richards makes a bold feminist statement in the new Bond film, due out this fall. Entertainment Weekly reports she's one of the only actresses in The World Is Not Enough who doesn't appear in a bikini. Richards says her costume consists of shorts and a tank top, because they are "more scientific looking." (She plays a nuclear physicist.) Give her a break… It's not like she's playing a brain surgeon.
Jailhouse rock. Stone Temple Pilots front man Scott Weiland is back in jail. The Associated Press reports a Los Angeles judge sent the singer back to prison after his third probation violation stemming from his arrest for drug possession. Weiland is using the situation to his advantage: Look for Robert Downey Jr. to appear in the first video for the band's next CD.
All women, all the time. Infobeat reports that Turner Broadcasting System has given the ax to plans for a new network aimed solely at women. Development had been underway for a year and involved two prominent magazine publishers. TBS issued a statement saying the Women's Network was nixed because "it was not in the company's best interests" at the time. Apparently, the programming was too moody, irrational, and unpredictable.
Politics as usual. It turns out Jerry Springer won't be running for office anytime soon. The controversial talk show host's interest in running for the U.S. Senate in Ohio had Democrats and Republicans seeing eye-to-eye for a change. Members of both parties widely criticized the idea of Springer entering the race. When asked why he had the sudden change of heart, Springer said he'd rather deal with angry bisexuals than angry bipartisans.
Postmark my face. The Associated Press reports journalist Mike Wallace is being honored with a postage stamp bearing his face. The Caribbean nation of St. Vincent and the Grenadines is issuing the stamp as part of the United Nation's "Year of Older Persons" program. The program is intended to pay tribute to older people who have made significant contributions in their fields. A Dick Clark stamp is currently in the works.
Is rock 'n' roll misogynistic? In light of the recent violent acts committed against women at Woodstock '99, Billboard magazine asked the public to vote on whether rock music is becoming more sexist. Out of the 2,197 people polled, 37 percent felt rock has always been sexist, 32.7 percent felt that the violent acts at the festival were not representative of rock music in general, 16.5 percent said music is becoming more anti-woman, and 13.9 percent said sexism isn't a factor at all. A new survey is now being conducted on whether public opinion polls are stupid and useless.
Melissa is a disc jockey at WBCN-FM and a music news reporter for Rage TV, both in Boston. She hopes someday to be a celebrity in her own right, and promises BizBuzz an exclusive.