Mangled Verses
I think that I shall never see lovely Pavement poetry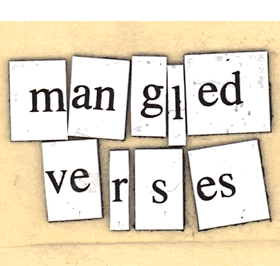 Where Pavement gave neglected fans a call
their label's page used surly PR flacks.
("Am I a Mr. fucking-know-it-all?")
Would poems add the soul their Web page lacks?
The online Pavement Poem Contest grew
But some would dis the band instead of gloat.
Some smart-assed slackers slagged them in haiku
or borrowed lyrics Stephen Malkus wrote.
Glib poets chased the laurels to be won,
Submitting surreal online Zen -- and worse.
But frankly, cooler contests have been done.
They bitched about the prizes in their verse.
Here's our advice for band publicity:
There's better ways than online poetry.
David Cassel and Mat Honan are GettingIt editors. Sometimes they rhymes slow, sometimes they rhymes quick.