Brat With A Baseball Bat
The skatepunks of baseball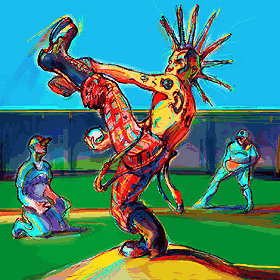 The crack of the bat, the flying of the flag, the pounding strains of The Ramones' "Blitzkrieg Bop." It's baseball season, and two of America's defining inventions cruise the baselines side by side. Years ago, the notion of punk rock and America's national pastime bridging the generation gaps would have seemed laughable. Now you can't escape the third inning without Johnny, Tommy, Joey, and Dee Dee guiding you to the polish sausage stand.
As the conservative '60s flat-top pros eventually gave way to the mustache-and-sideburns mod '70s players, so the end of the century has seen the rise of the punk aesthetic in the modern game. Sure, there's Angels ace Chuck Finley's bleached dome, or the Colonel Sanders-esque peroxidizing of Reds outfielder Dmitri Young. But that's just couture. To really take the whole mosh-pit diamond life to the next level, we need an actual rocker playing the game.
Presenting St. Louis Cardinals pitcher and Pulley singer Scott Radinsky, the only evidence of a genuinely successful baseball/punk hybrid.
Drafted after high school in 1986 by the Chicago White Sox, Scott left behind his Southern California band Scared Straight (for which he'd written the skatepunk anthem "Skate To Live" at age 16) to pursue his day job of mowing down American Leaguers. After toiling in the minors for a few years, he got the call-up in 1990. Meanwhile his band sat by the phone, wondering when the 'Sox would next play Anaheim.
After some success, Radinsky came down with Hodgkin's Disease in 1994. Spending his time on the disabled list at home in Simi Valley, Calif., he cast off the shackles of his disgruntled band-in-waiting (which had, by now, changed its name to Ten Foot Pole). After giving the brush-back to cancer, Scott returned to the White Sox in late 1995, picking up where he left off, as one of the league''s best set-up guys.
Becoming a free agent after the season, he signed with his hometown Los Angeles Dodgers and resumed his loud and snotty double-life as lead singer for a new band -- Pulley. They immediately signed to Epitaph Records and released their debut album Esteem Driven Engine. Since Pully is made up of pals from other punk bands (most notably Strung Out and Budget), their time constraints are lax. They tour when they can and record their parts for songs separately, when convenient. They released 60 Cycle Hum in 1997, and their new self-titled album came out this year.
How Radinsky's pre-season free-agency defection to St. Louis will affect Pulley's success is anybody's guess. Radinsky's baseball career is another story. After posting some impressive stats in L.A., his showing for the Busch family has been lackluster, at best. As of press time, his earned-run average was 4.88, with 27 hits in 27.2 innings. Nevertheless, Radinsky is still the first of what we can only hope to be more "real" punks to grace the grand old game.
Kevin Chanel may not be able to pitch, but he dances just as good as he walks. By night he publishes ChinMusic! Magazine, America's only publication devoted to baseball and bigrockaction. By day he fights crime in his skivvies.