Stop Making Sense? No Problem
Celebs uncensored in Toronto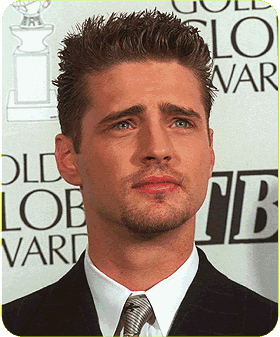 Lots of big stars were born here, movies are being made on every side street, yet there are no famous people actually living in Toronto, Canada. But during the span between two weekends in September, the Toronto International Film Festival draws the most overheated concentration of celebrities on the planet.
A local cable channel runs a slew of celebrity press conferences, which means the uncensored drudgery of big stars meeting the media gets beamed into homes all across town. So, without even leaving the house, we are pleased to be able to share with you all the excitement of tomorrow's big-time box office blockbusters, today!
Press Conference for American Beauty
"It's not my fault," assures Kevin Spacey, referring to the absence of his co-star Annette Bening. "I promise."
She's pregnant, "and will be for the next eight months," explains director Sam Mendes. It's not Kevin's fault. He promises.
"I've found the few moments of success I've had on stage and film are really best moments," actor Peter Gallagher reflects. He looks more interesting and intelligent when he's tired, but when he speaks, it's another story: "Moments you are least conscious of and least aware of the response... I don't really know how to answer your question because... I was spacing out there. I was thinking about dancing as fast as I can. But life is short, dammit. I'm just glad I have a job."
Press Conference for Mumford
"A lot of the roles that you played in the past," begins a reporter, "like in Mallrats and Chasing Amy and stuff, it's a lot of the kind of character that you're almost afraid to argue with... This kind of character though is more, kind of, you know, laid back and, you know, not as aggressive as the other ones. How's that?"
"To play that, you mean?" wonders actor Jason Lee.
"Yeah, yeah. That departure."
"It was, uh... Well, the excitement of playing a different character than you're used to playing..."
Lawrence Kasdan wrote and directed the film about a mysterious psychologist who invades a small town and gives advice to all the dizzy women. As director of The Big Chill and Body Heat, Kasdan's been to his share of press interrogations. This flick, the avuncular auteur ventures, probes "the secret life that goes on in your head."
"Journalists spend their life doing that," Kasdan lectures. "But in life, it's hard to find anyone who will ask you a follow-up question."
"You can tell when you're talking to someone," begins actor Pruitt Taylor Vince, bald and bulky and rather introspective, transforming this promotional discourse to an existential cafe conversation. "They're not listening, they're getting ready for what they're gonna say. I'm not sure where that comes from. Instant. Fast food culture…"
"Fear," a voice interjects. One of the neurotic actresses, no doubt.
Press Conference for Barenaked in America
"Jason. Directing. This is a new thing for you. Why? How?"
A cell phone rings.
"Guys," bristles the former Brandon Walsh, his smug grin intact. "Please..."
"It's a cute girl in the back whose phone rang," he discovers. "Isn't that fortuitous?"
This is Jason Priestley's first time behind the camera of a feature film. The documentary follows his fellow Canadian chuckleheads, Barenaked Ladies, as they conquer the U.S. One band member, Ed Robertson, is seen turning around the card at the front of the table to see if they spelled his name right. He stifles a yawn.
"Mr. Priestley, how much did the picture cost to make? And, gentlemen, how much did Mr. Yankovic pay you for the use of your songs?"
"It was cheap like borscht," Priestley explained. "C'mon! Rattle and Hum cost 25 million bucks!"
Marc Weisblott writes for
The Village Voice
and
RadioDigest.com.
His attention span can't tolerate press conferences, unless he's got his remote control in his hand.