Karate Chop Elvis
The King and the sensei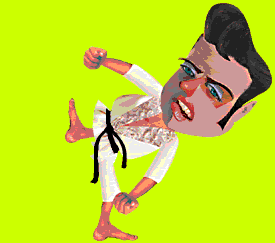 Today, a gathering in Memphis, Tennessee commemorates the 22nd anniversary of Elvis' death, marking the end of a seemingly endless string of "Elvis Week" festivities. In addition to the fan club presidents' luncheon and tours of Elvis' high school, visitors caught the Elvis laser-light show at the planetarium and even took guided tours of the Elvis Presley Memorial Trauma Center. Elvis Presley Enterprises spent $3 million remodeling a local inn to be "Heartbreak Hotel." And RCA executives appeared, brandishing record-sales certificates, to dub Elvis the "Artist of the Century."
Not to be outdone, Tupelo, Mississippi (Elvis' humble birthplace) held its own celebration last week. Even the mirrors from Ellis Auditorium -- the site of Elvis' high school graduation ceremonies -- were auctioned on eBay.
And today, a man named Kang Rhee visits Elvis' grave.
Rhee granted Presley a lifetime membership at his Memphis karate studio just three years before the King's death. A frequent visitor, Elvis complained that he never saw his karate instructor smile. And Elvis wanted to change that.
"He thinks I'm too serious all the time," Rhee remembers. So Elvis flew him to performances at the Las Vegas Hilton, to his personal home in Los Angeles, and in 1974 introduced the instructor to audiences during a 15-day tour of Memphis, Alabama, Atlanta, and Nashville. "He tried to entertain me," Rhee remembers, "and then he tried to make me relaxed and happy." Rhee calls Elvis a master -- of music, of martial arts, and maybe even costume design. But most of all, he was impressed by the singer's sincere devotion. "This giving attitude destroyed all angles, and all elegance, and all that martial ego." He offered his summary of Elvis. "He's the master of love."
Elvis held a lifelong interest in karate, according to Shane Paterson, a University of Georgia graduate student who's both a long-time Elvis fan and a martial arts enthusiast. In a 4000-word online essay, Shane reports that the back cover of the 1964 Elvis album G.I. Blues shows the singer's hand swollen from karate practice before a photo shoot, and that Elvis even wore his black-belt pin on the cover of one of his gospel albums. And though it's not clear who clobbered the three men who stormed the stage at a 1973 performance, Paterson says a recording of the event captured Elvis shouting to the belligerent fans, "You want to shake my hand, that's one thing ... but you want to get tough, I'll whup your ass!"
Kang Rhee uses gentler words to describe Elvis: humble, dedicated, giving, and genuine. Elvis was not just a frequent visitor to his karate studio. At the end, the class would sit and close their eyes, and Elvis would say a prayer.
The two first met in 1970 when Rhee was serving as a national referee at karate championships nationwide. Then in 1974, Elvis paid a personal visit. Rhee recalls that at four o'clock on a hot Memphis afternoon, five black limousines pulled up, and Elvis walked into Rhee's studio with his 16-person entourage. The smell of sweat hung in the air -- there was no air-conditioning -- but Rhee proudly lined up his students and introduced them to the "King of Rock and Roll." They demonstrated breaking boards and concrete blocks and, according to Rhee, Elvis was impressed by their "strong martial spirit." Then Elvis left the building.
A couple of days later Elvis returned with an autographed personal guitar. He removed a lion ring from his finger, and placed it on Kang Rhee's. Then Elvis spotted a shy black student in the corner. Elvis had been a shy youth himself. Elvis walked over to the student, Kang Rhee remembers, and said "Don't worry about it." Then he handed him an Elvis watch.
Elvis later presented the karate instructor with a white, customized Cadillac El Dorado to replace Kang Rhee's VW station wagon. Another time, Elvis called over Charlie Hodge -- the man who carried his checkbook -- and wrote Kang Rhee a check for $50,000 to build a better studio. Rhee is emphatic that he didn't ever expect gifts from Elvis, but that Elvis loved to give. And Elvis' bodyguard told him, "You should take it -- because he really wants to give it to you."
"I learned from him that the loving is more powerful than martial arts."
Three years later, Elvis was dead. Rhee remembers that he counseled Elvis against drugs after a bodyguard asked him to talk to Elvis about the sleeping pills he was consuming. "I told him that Master Tigers never take any pill, any drug -- just lived well, and natural healing. And then be a strong king of the jungle." He felt Elvis understood, and Kang Rhee never saw any signs of Elvis' reported drug use. In fact, the only thing that was visible was the sign of another legend.
"[Elvis] told me that President Nixon appointed him a secret narcotics agent, and he showed me a badge..."
See also:
Playing With Dick
David Cassel is Interactive Media Editor at GettingIt. He loves Elvis.