Bizbuzz
Chris Rock, Geena Davis, Dennis Rodman and more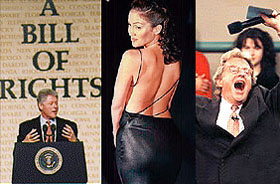 The bigger the better. If you want to know what turns Chris Rock on, look no further than this month's Playboy magazine. The comedian says the one female attribute that really gets him going is "the big ass." Rock is reportedly a huge fan of Jennifer Lopez, Roseanne, and Jenny McCarthy -- the former two ladies have one, the latter is one.
How's her bedside manner? Southern California rockers Blink 182 have made a new friend in the industry: the porn industry, that is. The cover of their latest CD, Enema of the State, features porn star Janeen dressed as a nurse. The Associated Press reports the band was a little nervous when they first met the "actress," but quickly got over their anxiety when they realized porn stars are people too. A casting call for the cover of their next album will be held at Charlie Sheen's house.
You'll poke your eye out. Westwood One Entertainment reports actress Geena Davis has the chance to earn a spot on the U.S. Olympic Archery team, after beating out some 250 competitors to qualify for the semifinals later this month in New Jersey. A spokesperson says the actress "wants to keep a low profile." Probably a good idea with all those arrows flying around.
First Woodstock, now this. Mob-induced mayhem at a Dave Matthews Band show in Hartford, Connecticut over the weekend resulted in 50 arrests and hundreds of dollars worth of damage. The rampages included concert-goers overturning cars and setting fires. While the chaos at Woodstock '99 last month was attributed to overpriced food and water, the violence of the Connecticut teens is said to be a reaction to overpriced BMWs.
Baby can I drive your car? The producers of the sitcom Will and Grace are so pleased with the show's success that they surprised its stars with a special bonus. Eric McCormack, Debra Messing, Sean Hayes, and Megan Mullally were each given a brand-new silver Porsche, as a congratulations gift. But two cast members felt silver was just a little too macho. Eric and Sean hope to exchange theirs for models in mauve.
Pressure to perform. Dennis Rodman is looking for a new business venture. The former NBA star says he wants to get into the adult entertainment industry. Rodman tells TV Guide he'd like to market and sell a video of himself and ex-wife Carmen Electra having sex. If the couple's short-lived marriage is any indication, we can expect Dennis to be in and out quickly and then blame his heavy drinking for his lack of staying power.
Melissa is a disc jockey at WBCN-FM and a music news reporter for Rage TV, both in Boston. She hopes someday to be a celebrity in her own right, and promises BizBuzz an exclusive.