King Mob
UK gangsters go for Hollywood gold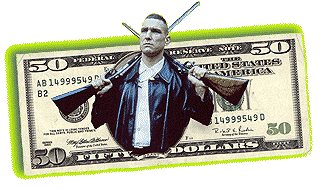 The latest attraction in the Cool Britannia theme park is hardened criminals. In the wake of Lock, Stock and Two Smoking Barrels, no fewer than seven movies about the UK underworld are currently in production; Tricky is set to release a spoken word album featuring the cream of the crims; and former denizens of gangland are lining up to capitalize on their new-found celebrity status.
The Great Train Robber Ronnie Biggs once sang with the Sex Pistols, but the new king of the celebrity criminals is "Dodgy" Dave Courtney. Courtney (a.k.a. "the Yellow Pages of the Underworld" and the "Heir to the Krays") is the basis for Vinnie Jones' character in Lock, Stock and Two Smoking Barrels. The 40-year-old former debt collector looks like the embodiment of Evil. Dr. Evil, that is.
His just-published autobiography, Stop The Ride I Want To Get Off, shows the chrome-domed Courtney dressed in an alligator-skin suit and puffing on a stogie. An imposing L-shaped scar on his nose is the only thing that portrays Courtney's life of violent crime. He incurred it in a "straightener," a street fight to settle a beef between two rival firms of doormen. But, says Courtney, you should have seen the other guy. "I bit some of his fingers off, broke his rib, punctured his lung and took his eye out."
"Dodgy" Dave has been tried for murder twice and acquitted both times, but since British law includes a double jeopardy provision, he now freely admits, "I did it!" He's "retired" now, but if anything, that's made him even more flamboyant -- his house is a converted South London school made to look like Camelot, surrounded by a moat, crowned by battlements, and with a sword in the stone sitting in the garden.
Celebrity status has its downside though. King Dave's castle is under 24-hour police surveillance, his house is bugged, and his phone is tapped. "I've taken two trackers off my car in the last five months, and they're now stuck on the door of my fridge," he laughs.
Courtney has parlayed his reputation into a one-man million-dollar industry. As well as being a successful promoter of raves and sporting events, Courtney writes a monthly column for UK men's magazine Front, has just recorded his singing debut with Tricky, is booked to address the Oxford University Student Union, and will host his own chat show next year called Dave Courtney & His Con Men Friends. As he says, "I'm living proof that crime does pay, so why shouldn't I profit out of it?"
Courtney is also one of 11 gangsters courted by Tricky for a spoken word project called Product Of The Environment. The others -- including Tony Lambrianou, "Mad Axeman" Freddie Foreman, "Mad" Frankie Fraser, Jack Adams and Charlie Richardson -- are the elder statesmen of British gangland.
Fraser, once one of the most feared men in London, spent a total of 42 years behind bars and was three times certified insane. He was famous for the tools of his trade, an axe and a pair of pliers -- not for extracting confessions, just teeth. Now, he's managed to spin his psychopathic exploits into a successful stand-up routine, and he's set up his own Web site to blag the $300,000 he needs to make a "guerilla" movie of his life.
Tricky got to know these hoodlums through his uncle, Martin Godfrey, who reputedly "ran Bristol" and did time in Pentonville himself. Now he wants to rehabilitate them. "My family are villains, poor fuckin' ghetto people," he says. "This is about breakin' the cycle. You've got to understand these people don't come out the womb as gangsters. They are products of their environment."
It's a sentiment that finds broad agreement in the community, particularly with Nick Reynolds, son of Bruce Reynolds (the mastermind of the Great Train Robbery). "I'm tired of the stereotype of criminals," he says. "They're not monsters. These are family men. Even the murderers are nice blokes." In fact, according to Reynolds, gangsters are the last original, self-made people in an age where role models are the product of a vast industry.
Using dad's connections, Reynolds Jr. has spent five years making bronze-cast death masks of England's canon of villains. An exhibition of his work, From Cons To Icons, runs in London this fall. Reynolds is aiming to examine "the strange phenomenon of how people are vilified by the media one minute and feted on the celebrity circuit the next."
The problem started with Britain's first celebrity gangsters, the Kray Twins. Ronnie and Reggie Kray were tight with Judy Garland, ran security for Frank Sinatra, and provided protection for George Raft as he opened the Mob-owned franchise of clubs that bore his name. The star quality rubbed off and the Twins were snapped by fashion photographer David Bailey. In their Saville Row suits, they were a vision of stoic and impeccable hard men. "David Bailey has a lot to answer for," says Reynolds. "Every villain that wants to be someone pays homage to that picture," he continues, "because it's an icon of crime."
There are plenty more icons in the pipeline. Films in production include Pretty Boy, based on the best-selling autobiography of bare-knuckle boxer and armed robber Roy Shaw, and starring Nil By Mouth's Ray Winstone; and Gangster No. 1, a Malcolm McDowell vehicle helmed by the director of The Acid House,Paul McGuigan; there's a sequel to Lock, Stock...; and Dave Courtney is holding out to play himself in the movie adaptation of his book, although rumor has it he's been cut out of at least one role because he keeps boasting to the tabloids about all the murders he's done.
Meanwhile, Reynolds predicts that the '60s British crime genre will be the next big thing in Hollywood. "Now that gangster chic and London cool is back in, they're going to be making a killing," he says. Where will it all end? Action figures, says Reynolds. "It wouldn't surprise me to see a Dave Courtney doll with white Rolls Royce, machine guns and Versace suit."
Chris Campion half-inched this story off of Goetz Werner, who edits Lodown magazine.