Bizbuzz
Charlie Sheen, Leelee Sobieski, Monica and more...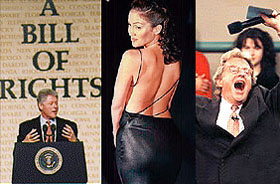 Peeping porn stars? Two female porn stars are suing Charlie Sheen, alleging his bodyguard "Zippy" beat them up as they were attempting to visit Sheen at home. The women claim they were "invited guests" and suffered serious injuries and emotional distress. The guard, a recent graduate of The Gary Coleman School of Fan Relations, says he thought they were crazed fans trying to get an autograph.
Hairy interesting. Teenage actress Leelee Sobieski (Eyes Wide Shut) has an…uh…interesting hobby. In an interview in this month's Details magazine, Leelee says she likes to collect strands of famous people's hair. The young starlet says future conquests include Marv Albert, Burt Reynolds, and Santa Claus.
Send her an angel. Westwood One Entertainment reports pop singer Monica will appear in a made for TV movie on ABC called Angel of Mine. The movie tells the story of a young girl whose dreams of being a famous singer are realized thanks to the help of her guardian angel. The film was originally set to star Melissa Rivers, and tell the tale of a young girl whose dreams of being an actress are realized thanks to the help of her famous mother.
Send her a tow truck. Monica Lewinsky received only minor scrapes and bruises when her SUV overturned on Sunday. According to the California Highway Patrol, Monica lost control of her vehicle as she rummaged around under her seat looking for something. That something, reportedly, was her pride.
Warning, contents may shift during flight. Robert De Niro has filed for divorce from his second wife, former flight attendant Grace Hightower. A spokesman for the actor cites irreconcilable differences: De Niro wanted the entire can of soda, she insisted on giving him just half.
Gimme gimme. Controversial director and 1930s commie-namer Elia Kazan says he deserves the lifetime achievement Oscar he received earlier this year. Kazan told Vanity Fair he is Oscar-worthy because he "directed films that nobody else has." Kazan accepted the golden boy in March, while the majority of his peers sat in silent protest. Upon noticing his cool reception, Kazan crossed his arms over his chest, stamped his foot and proclaimed, "I'm telling!"
Catty Spice. It looks as if British pop tart Sporty Spice doesn't think too highly of former bandmate Ginger Spice. In the latest edition of Q magazine, Sporty says Ginger's singing "...doesn't come from the heart." She also says that although Ginger is "...a great celebrity," her music is empty...much like the venues the Spice Girls have been playing since Ginger left the band.
Melissa is a disc jockey at WBCN-FM and a music news reporter for Rage TV, both in Boston. She hopes someday to be a celebrity in her own right, and promises BizBuzz an exclusive.