Bizbuzz
Jenny McCarthy, Brad Pitt, George Michael and more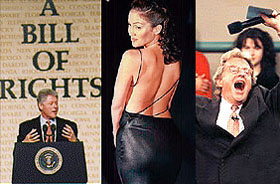 Off the market. Former Playboy playmate and wannabe actress Jenny McCarthy has tied the knot with director John Asher. The Associated Press reports the couple was married last weekend at a Beverly Hills hotel. It must be true love -- the groom vowed to take McCarthy "for bigger or for smaller, as long as they both stay firm."
A man of substance. Brad Pitt says that, much like his character in the upcoming film Fight Club, he feels people who focus on the superficial are misguided. Speaking to reporters at the Venice Film Festival, the actor said that concentrating on external things like "beauty ... and cars ..." is "truly insidious and damaging." After answering questions, Pitt grabbed girlfriend Jennifer Aniston's hand and hopped in a limo, which took him to a private plane, which returned him to one of his three newly-purchased homes.
Time in a bottle. It's been a month since Stone Temple Pilots frontman Scott Weiland was placed in the substance abuse unit of an L.A. jail for violating the terms of his probation on drug-related charges. The singer isn't getting any star treatment. Sonicnet reports Weiland's daily routine consists of waking at 5:30 a.m., bathing in the communal shower, and attending 12 hours of motivational lectures. A schedule like that's enough to drive a guy to drink!
Tossing and turning. A new study says children who watch TV before bedtime may not sleep as well as those who don't. The Associated Press reports the study, led by a Brown University professor, finds children who are exposed to TV in the evening "are more likely to resist going to bed (and) have trouble sleeping." The good doctor says that television has a stimulating effect rather than a sedating one. The study obviously didn't examine kids who watched the PAX Network.
Hands off my man. Patricia Arquette doesn't think too highly of some of her husband's fans. The actress tells Flaunt magazine that many of Nick Cage's female admirers aren't shy about approaching him. "Girls come up to him giggling and try to touch him. They'll insinuate (sex acts) and make vulgar comments," she laments. It seems that working in Hollywood isn't all that different from working in the White House.
Gives new meaning to the word "manhandle." The Associated Press reports that the police officer who arrested George Michael in 1998 is now suing the singer for slander. Officer Marcelo Rodriguez is asking for $10 million in damages, claiming that since the arrest Michael has publicly mocked and ridiculed him. In his defense, Michael claims he was entrapped into committing a lewd act in a public restroom. He accuses Rodriguez of "tampering" with the evidence.
TV whitewash. A coalition of minority organizations is protesting "the continued invisibility of Latinos on television." Infobeat reports that the group is organizing a boycott of the four major TV networks during the first two weeks of the new season. In related news, a group of Asian Americans agreed to boycott the first two weeks of the professional football season to protest "the continued invisibility of Chinese Americans in the National Football League."
Melissa is a disc jockey at WBCN-FM and a music news reporter for Rage TV, both in Boston. She hopes someday to be a celebrity in her own right, and promises BizBuzz an exclusive.