Vicious Vander
Music videos and metaphysics shaped her destiny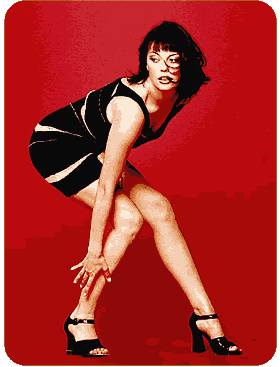 Iam vicious. I have no sense of humor. I'm like a robot."
Statuesque, raven-haired Musetta Vander expresses amusement at her latest wicked screen portrayal, Munitia, in the retro sci-fi Western comedy Wild Wild West. Looking great in a skimpy wardrobe, Vander portrays the dangerous henchwoman to Dr. Arliss Loveless (Kenneth Branagh), in a diabolical plot to take over the United States. She gets to shoot Will Smith's character at point-blank range and pilots a monstrous mechanical fire-breathing tarantula.
Vander has played some vicious girls in her young career. As Queen Sindel in Mortal Kombat: Annihilation, shesliced people up with her hair while emitting eerie death shrieks. In Oblivion and Oblivion 2: Backlash, she was the whip-yielding mob girl Lash, and she played a teacher/preying mantis who eats virgin boys in an episode of Buffy the Vampire Slayer.
Next up is a cameo in the fall film Molly as a bitchy, fur-wearing soap star who catches her husband with one of his many girlfriends. (The movie stars Elisabeth Shue as a mentally handicapped woman who takes soaps literally and gets angry at the actors themselves for their characters' TV infidelities.)
Vander also plays a Siren in the upcoming Coen brothers' comedy, O Brother, Where Art Thou? "I get to seduce John Turturro and turn him into something unusual," chuckles Vander. The film, set for a year 2000 release, is a modern-day retelling of Homer's The Odyssey. She recently signed on to play a role in the thriller The Cell starring Jennifer Lopez.
Nasty though she is on the big screen, the South African-born actress is as sweet as can be in real life. Over a long coffee klatch, she speaks excitedly about dancing, her pre-acting profession. (She's appeared in some 21 music videos with artists including Rod Stewart, Tina Turner, Elton John, and Alice Cooper.) Vander also has a prominent spiritual side. A big fan of the late alleged Tibetan medical lama T. Lobsang Rampa (she's read all 18 of his books), she's big into meditation ("It serves to silence the mind and to gain knowledge of oneself") and herbal remedies.
So, is she happy with her rising career as a madam of mayhem? Vander believes the roles have "served a purpose," adding, "I think life happens as it should."
Cordelia Arnold covers Hollywood when celebrities deign to be uncovered. She spends her spare time avoiding movie stars and trying to be real.