Flesh Wounds
Drop Dead Gorgeous director finds an easy target in beauty pageants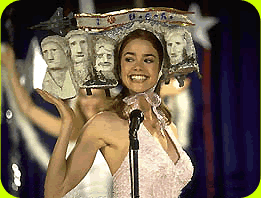 Drop Dead Gorgeous has to do with murder, bigotry, death, patriotism, and ruthless behavior, but only in the name of American beauty and success," promises director Michael Patrick Jann of his debut film.
Lithe, quick-talking, and dry-witted, the bespectacled Jann braces himself for the backlash of Middle America. But he swears he's not out to get anyone.
The mockumentary, which stars Kirstie Alley, Ellen Barkin, Denise Richards (Starship Troopers, Wild Things) and Kirsten Dunst (Interview with the Vampire and this summer's Dick), skewers most of the Midwest's sacred cows as it follows the quest for the crown in a local beauty pageant. There is a contestant dancing with a dummy of Jesus on the cross, a fat retarded local obsessed with the police chase show Cops, and a reigning Teen Princess who lives in the town's anorexia clinic.
"To me, this movie isn't about, 'let's stick it to beauty pageants,' because they really don't need anything stuck to them," Jann explains. "They're basically self-parodies already."
"What makes them so funny is that you need absolutely no skill to get yourself through a beauty pageant," says Jann. "There's something so positive about being a beauty queen to them, a real feather in your cap, when ultimately it's one of the more meaningless things you can be in the world."
Drop Dead Gorgeous trails a handful of hopeful and somewhat ruthless girls from small-town Minnesota as they prepare for the Mount Rose Miss Teen Princess pageant. A slew of "accidents" ensue, including several shootings of people who don't favor the right contestant, an exploding tractor that eliminates a competitor, and falling stage lights that render one contender deaf (which she happily embraces because she was planning to use sign language as her talent anyway). There's also the mystery of disappearing stage costumes and the front-runner's tantrums that miraculously evaporate into glossy smiles whenever the camera appears.
With several tabloid-heavy celebrities on board, Jann put to rest any rumors of fiction crossing into reality. "Denise (Richards) especially had a hard time with her character, Becky. She was always like, 'God, I am such a bitch in this movie!' It's always a challenge to get a performance out of an actor that's sincerely insincere, especially from someone who's genetically incapable of insincerity."
As a founding member of the NYU-based comedy troupe The State, Jann is no stranger to dark humor. He began his directing in the early '90s doing sketches for the short-lived MTV series The State. He followed with a few commercials before receiving the Drop Dead Gorgeous script, which had been circulating untouched around Hollywood for a couple years. "Satire, in Hollywood, is not a word that you want to mention, because it's saying 'dark comedy' and people think that doesn't sell," Jann explains. Nevertheless, he was eager to bring his twisted comedy background to his first flick.
Combining such inspirations as Richard Lester (A Hard Day's Night) with Alfred Hitchcock, Jann hopes the film, which follows in the footsteps of notable mockeries Spinal Tap and Waiting for Guffman, will nest itself with those who "get it" without offending too many people along the way.
Hold on to your tiaras.
Emily Zuzik is a San Francisco rock star who has aspirations of writing. Her articles have appeared in Salon, Paper, POV, Maxi and Nylon magazines.