Pie Throwin' Man
Fighting the power with cream tartlets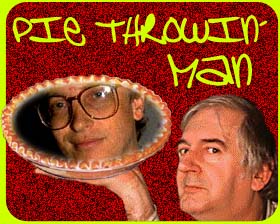 How Belgian master political pie thrower Noel "Pop Pie" Godin got his start as the planet's coeval king of meringue-flinging was revealed recently on a French TV documentary. "The very first entartar was when a teacher had punished me," said the 53-year-old Godin, who has provided the filling between the '60s and the '90s by creaming pusses from "Maoist" avant-garde film director Jean-Luc Godard to that one-man digital oligarchy, Bill Gates.
"He had put me in a corner with a donkey hat on my head. That's how things are done in Europe. And then I went to see the teacher in the school cafeteria where he was eating his dessert with whipped cream. I took it from his hands and I threw it in his face, angrily.
"I had found my calling. I have never stopped since."
Godin first gained notoriety in the late 1960s. Hired to write the news column for Friends of Film, a provincial rag published by the Belgian Catholic League, he made it all up. Infused with the anarchism of France's near-revolution in 1968, the young Godin fabricated movies, graphically laden with photos of his kin, and faked hundreds of believable interviews with major film figures ranging from Robert Mitchum to Luis Buñuel without leaving his bedroom. He even caused a devotee to go to Thailand seeking the imaginary Vivianne Pei, "the only blind director in the history of cinema."
Indeed, Godin praised Pei ceaselessly. But 1969 was the year Godin turned from Pei to pie. Under the nom de guerre "Georges Le Gloupier," he nailed director Robert Bresson with a tart total. "Gloup, Gloup" has been the war cry that has immediately preceded all his pieings since.
In the next edition of Friends of Film, Godin reported that the novelist Marguerite Duras, a pal of Bresson, had taken revenge on "Le Gloupier" with a fancy pastry at a Parisian cafe. Soon after, Monseiur Godin heard Duras ("an empty celebrity") was coming to Belgium. "With the help of a few Oud Zottegem, our most explosive beer," Godin pushed a large cream cake into Duras' face ("they pie hard in Belgium," said Quebec entartiste Francois Gourd) and considered the attack closure.
Still flush with the spirit of '68, Godin has since developed attack squads of up to 30 or 40 entartistes. His security is meticulous. With the Gates pieing on February 4, 1998, Godin was tipped off by a higher-up (most targets are generally not loved in their realms) in Belgian Microsoft who wished to bring the world's richest man down to earth.
"In the case of Bill Gates, it took 32 people," said Godin. "And four of 25 pies touched his face. As always, we bought them from a little shop near the scene of the crime. We are too lazy to bake them ourselves."
Godin's zany, surreal, benign anarchist mischief is inspired by a total commitment to struggling against conformity and self-importance. His philosophy of life can be found in the 800-page Anthology of Radical Subversion and in the autobiographical Cream and Punishment. Neither have been translated into English.
But Godin is really a product of the prevailing visual age. Thus, he has pied at least five notables at the famous Cannes Film festival. (He attends annually, despite heavy security efforts to keep him out.)
In 1985, Godin plastered Jean-Luc Godard at Cannes because he felt the pioneering filmmaker had gone commercial. "Godard took out his cigar and began licking the cream off," said Godin, twinkling. "He then thanked me for creating an homage to silent film."
The festival's director, Daniel Toscan du Plantier, has attempted to ban Godin from the town of Cannes itself. However, Godard successfully intervened on the pieman's behalf. Though guards claim to have all eyes on the rascal, Godin's pieings at Cannes continued into the '90s, and include the director himself, in a classic down-escalator smooshing!
In 1993, Godin diverted security on the seafront Croisette Boulevard with a seeming frontal attack on journalist Alain Beverini, who was interviewing actress Holly Hunter (for The Piano) at the time. Three of Godin's piehorts sped up in a motorboat and curdled Beverini as Hunter cracked up before millions of French TV viewers.
The following year, Godin "whey laid" Belgium's incoming minister of culture Philippe Douste-Blazy. He later pied his personal arch-enemy, the right-wing French philosopher fop Bernard-Henri Levy. "He takes himself monstrously seriously," said Godin. "He's the worst; for us, he represents empty, vanity-filled literature... to the most spectacular degree of imbecility."
Godin's delicious lineage includes Mack Sennett silent films, Bugs Bunny, The Marx Brothers, and Abbie Hoffman. Historically, he extends the Italian commedia dell'arte or buffo, a tradition in which the Catholic Church allowed the underclass to release tensions in quarterly topsy-turvy carnivals. He also reincarnates the renaissance jongleur or joculator, whose low/high buffoonery led to the troubadours, those dandyish inventors of folk music.
Meanwhile, in present time, Godin enunciates his own notions about terrorism: "I consider that there are three forms of terrorism. First, fascist terrorism that uses, for example, bombs. Second, bureaucratic terrorism, which serves the state. And third, the grotesque terrorism of the TV series.
"We pay them back with burlesque terrorism, which is completely childish," he says. "I take a piece of dough covered with whipping cream and I thrust it into the face of someone who deserves it; it's nothing at all. My sworn enemies are authority, depressing laws, the return of the moral order, nuclear power, any form of political power. Our targets are the chiefs -- the military chiefs, the cop chiefs, the teacher chiefs, the parent chiefs, the political chiefs... the Chiefs! They can afford to get their precious clothes dry cleaned."
He continues, "The point is to give a hand, just a little, in order to bring the would-be jesters to overcome their fears. The powers have managed to have us interiorize everything," Godin says, "and the best way to win over them is to incite. With creamed tartlets."
Arnie Passman is a writer in Berkeley, California.