Bizbuzz
Kirk Douglas, Judy Garland, Jerry Hall, and more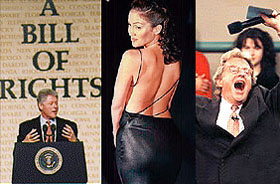 Keeping the faith. The Associated Press reports that 83-year-old Kirk Douglas celebrated his bar mitzvah last week. The actor partook in the rite of passage ceremony, generally reserved for 13-year-old boys, to reaffirm his faith. Douglas says he has been neglectful of his religion in recent years, and wanted to "thank God ... for being good to [him]." For his 84th birthday he plans on being circumcised.
Their roots are showing. Walt Disney Television Animation is being honored for its dedication to promoting positive images of Native Americans. Billboard magazine reports that Disney will receive the first Americans in the Arts Humanitarian Award for an episode of the animated kids show Pepper Ann. In the award-winning program, the main character's discovery that she is part Indian "helped to counteract the stereotyping and misinformation that American Indians still face today." I wonder if Pocahontas would agree.
Sale of the century. Westwood One Entertainment reports the dress Judy Garland wore as Dorothy in The Wizard of Oz sold at a Christie's London auction for approximately $324,000 -- nearly 10 times the expected price. A Christie's spokesperson says the buyer, a lifelong Garland fan, was absolutely thrilled with the purchase. Now if only he can find some cute pumps to match!
Eyes on the prize. Reuters reports model and former Mick Jagger paramour Jerry Hall has been chosen as a judge for one of Britain's top literary prizes. The big blonde Texan's appointment to the committee of judges for the Whitbread Award has caused a lot of debate. Some of Hall's detractors accuse the committee of "dumbing down" with her nomination. Other opponents simply suggest a name change from the Whitbread to the Whitetrash Award might be in order.
Battle of the network waters? Westwood One Entertainment reports a manufacturer of bottled water has bought the rights to the name "Dawson's Creek." In related news, another bottled water company has bought the rights to the name "Baywatch," which will be cheap, tasteless, and have lots of big, round bubbles.
Flacks hype themselves. MTV reports Britney Spears has been named one of the best-publicized stars of 1999 by PRWeek magazine. The nominations were determined by a survey of the magazine's readers. When asked why they nominated the teen singer despite numerous rumors that she lip-syncs, an overwhelming majority of respondents said they thought the questionnaire asked who had the breast publicity.
Melissa is a disc jockey at WBCN-FM and a music news reporter for Rage TV, both in Boston. She hopes someday to be a celebrity in her own right, and promises BizBuzz an exclusive.