Bizbuzz
Kid Rock, Alyssa Milano, Ted Nugent, and more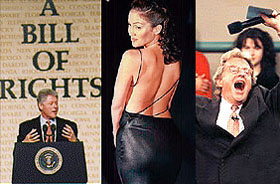 No kidding. Detroit rocker/rapper Kid Rock met President Clinton last week in Los Angeles. The two were reportedly on their best behavior when they were introduced at a dinner celebrating the sixth anniversary of the signing of the Brady Bill. Kid Rock didn't flip any of Clinton's security guards the bird, and the President didn't slip any of Kid's groupies the tongue.
The honeymoon is over. Twenty-six-year-old actress Alyssa Milano has filed for divorce from her husband of 11 months, singer Cinjun Tate of the band Remy Zero. The couple cites irreconcilable differences as the reason for the split. It seems Cinjun likes his woman submissive, and Alyssa insists on showing him who's the boss.
Full coverage. The British tabloid The Sun reports that Jennifer Lopez has insured her body for $1 billion. The policy, taken out with a Manhattan insurance company, is thought to be the biggest premium ever taken out by a celebrity. Gives new meaning to the term "protecting your ASSets."
Oh deer. Ted Nugent recently had a few choice words for protesters demonstrating against state-sanctioned deer hunts in Michigan parks. The Associated Press reports the rocker accused those opposing the hunt of believing that "Bambi's real." He added, "Reducing living, breathing flesh and blood creatures to the value of a cartoon ... hurts." Reducing them to a wall mounting apparently doesn't.
I like a gal in a uniform. Variety reports Lifetime TV, the network dedicated to female-based programming, is hoping to develop a Cagney & Lacey-type show for the new millennium. Lifetime's executive VP of entertainment says the show is important because "there aren't any police shows from a woman's point of view." The drama, tentatively titled City Lights, will follow five lady detectives in the San Francisco Police Department as they campaign to get cuter uniforms and munch on low-fat donuts.
Miami vice meets gadget guy. The NBC Today Show correspondent known as the "Gadget Guru" was arrested last weekend on charges of trafficking cocaine. According to Reuters, the "Guru," whose real name is Andy Pargh, was arrested near his home in Miami after allegedly buying 250 grams of cocaine from an undercover officer. In his defense, Pargh says he thinks the amount of cocaine he purchased was much less, although he concedes his digital scale may have been a bit off.
Look, it's Fundraiser Barbie. Barbie is the latest weapon in fighting AIDS. Mattel and the Elton John AIDS Foundation teamed up to unveil the "Art of Barbie" exhibition on World AIDS day last week. The project hopes to raise about $240,000 by auctioning off revamped Barbie dolls in the spring. New versions of the classic doll include designer Paloma Picasso's "chic" Barbie. Also up for bid is "safe sex" Barbie, which comes with a pack of condoms and the results of Ken's lie detector test.
Melissa is a disc jockey at WBCN-FM and a music news reporter for Rage TV, both in Boston. She hopes someday to be a celebrity in her own right, and promises BizBuzz an exclusive.
BizBuzz runs each Friday on GettingIt.