Not Just A One-Hit Wonder
The survival of Soft Cell's Marc Almond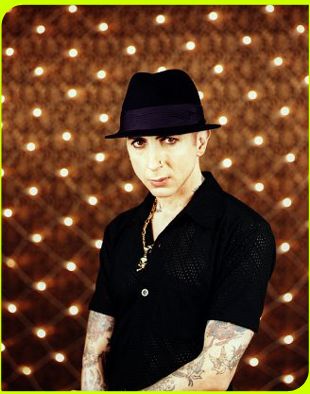 It's safe to say that no collection of early '80s pop would be complete without at least one copy of "Tainted Love." Soft Cell's remake of The Four Preps' song was the best-selling British single of 1981 and thrust Marc Almond and partner Dave Ball into the international music spotlight.
Eighteen years and more than a dozen solo and collaborative albums later, Almond is back touring for his newest release, Open All Night, which features the dark and twisted imagery that's been a trademark for most of his musical career. Its also got guest appearances from Budgie and Siouxsie of The Creatures, and a string quartet. Along with the new album, 1999 has seen the publication of his best-selling autobiography, Tainted Life, and a collection of poems and song lyrics entitled Beautiful Twisted Night.
GETTINGIT: How old were you when you first started performing?
MARC ALMOND: Wow, I think I was about 20? I don't know. Soft Cell didn't really start until I was about 21 or 22, but I had performed in a couple of local bands when I was 17. Even before that, I'd been in things like school choirs and school plays. I loved to sing and perform in front of people, but I didn't really start performing professionally until Soft Cell was formed.
GI: Did you have any alternative career plans in case the music thing didn't work out?
MA: Well, I was most interested in acting. I guess I never really thought I'd seriously go into it. When I was a kid, I had all those little childhood things I wanted to grow up to be, like I wanted to be a chef, because I loved eating so much -- just stupid things like that. I also thought I'd like to be a designer at one point, and a visual artist at another -- I even spent five years studying fine art in college. So I always knew it was going to be some kind of creative path that I would follow, but it wasn't until I met Dave Ball that I knew it would be music.
GI: What led to your interest in portraying the world's seedier side?
MA: When I left college, I went to live on my own in London. I suppose it was then that I became very much a night person. I was always a bit of an outcast at school and at home, and I guess I was just drawn to this world where I felt more accepted. But it was the whole night life subculture that really drew me in. And then I got a job working at nightclubs as a DJ, so that pretty much kept me in that particular lifestyle. I had also always been really fascinated by vampires, and creatures of the night. I set out to try to capture that world in my songs and my writing.
GI: Do you consider yourself an optimist or a pessimist?
MA: I'm an optimistic pessimist [Laughs]. I'm a person of many sides, or maybe just two? I can be optimistic, or I can try anyway, but unfortunately, all too often I'm horribly pessimistic. I think I'm just very realistic. I very much like to see things as they are and not try to fool myself into thinking about what they could be. I've fooled myself too many times, and now I like to clear away the happy fog, put away the rose-tinted spectacles and see the truth.
GI: On the new album, I noticed that you use a lot of live musicians. What made you go with actual instruments instead of just synth samples and MIDI [Musical Instrument Digital Interface]?
MA: I like to do a mix of both. I use computerized sounds and samples and keyboards, but I also like to use live musicians. I've always loved to use real strings and orchestras in the studio. Now, when I play live, I do use a lot of samples because it's not always cost-effective to travel with as many different musicians as I use on my records. I really like to use exotic, strange instruments as well. I'm always looking for an unusual mixture of sounds. I'm interested in anything that can give my music an exotic color.
GI: How do you think the music industry has been affected by the fact that just about anyone can now release a CD directly on the Internet?
MA: I think it's great that people have that freedom of choice. That's what life now is all about, isn't it? But to be honest, the whole thing doesn't excite me. There's nothing that I love more than wandering for hours around record shops, looking for records and looking for CDs and browsing and trying to discover new records and things. That is the joy, for me, of buying music, and I don't think anything will ever really replace that. I think it's great if people want to sit at home and download records from the Internet, but I personally think there's something really cold and joyless about it.
It's great that an artist can write and send you a new track in mere minutes, but I think the whole thing's just a lot of effort for very little... It'll never replace people being able to go out of their houses and making a whole trip out of looking for and browsing through physical piles of records and CDs. I think that's part of the joy in buying new music.
Holly Day's writing has most recently appeared in Guitar One, ROCKRGRL, Music Alive!, and EYE Magazine.