Bizbuzz
The WWF, Drew Barrymore, Elton John, and more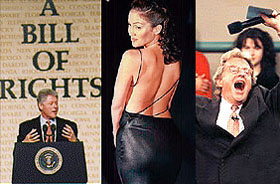 Smacked down. As the result of pressure from advertisers, World Wrestling Federation Inc. has announced plans to clean up some of its programming. The Wall Street Journal reports that both Coca-Cola and AT&T recently pulled ads after receiving complaints that the wrestling programs were filled with gratuitous sex and foul language. Now if only they could do something about that pesky violence.
A new ring master. Variety reports Mother Love will soon retire as host of the talk show Forgive or Forget. The program features guests either demanding apologies from their loved ones or begging to be forgiven. The show's producer, Twentieth TV, says Robin Givens will take over the job as mediator between feuding family members. Her first scheduled guest is Mike Tyson.
Auction drew no interest. The Associated Press reports an online auction of Drew Barrymore's belongings is drawing to a close after a very unsuccessful 10-day run. Drew's mother, Jaid, put a number of her daughter's childhood mementos up for bid, saying that she wanted her fans to be "part of [Drew's] life." Among the items that failed to capture the cash were some of Drew's baby clothes, the cowboy hat she wore in E.T., and the tiny doll bottle she used to carry her cocaine.
Cookies, camping, and stripping? Elton John got an earful from Britain's Scout Association after staging a raunchy dance number with male strippers costumed as cub scouts. The performance was part of a 10th birthday party for the gay rights group Stonewall. The Scout Association said the number was "lacking in taste." Also upset about the event were The Girl Scouts of America; apparently they wanted to peddle their cookies too.
He just can't get enough. TV Guide Online reports we'll be seeing even more of former child star Danny Bonaduce. As if his recent voice work for the Partridge family movie Come On, Get Happy and his appearances as a panel member on Jenny Jones weren't enough, Bonaduce is set to guest star on the December 17 episode of Sabrina, the Teenage Witch. If we're lucky she'll use her magic powers to make him disappear.
Suing celebrity. The Miami Herald reports Sylvester Stallone and his wife Jennifer Flavin are being sued for $1.5 million by five former employees. Members of the temporary maid staff allege they were let go mid-contract for violating some of the couple's strict house rules. They claim the list of inhumane edicts included an order to avoid all eye contact with Sly. Lawyers for the help plan on taking the famous couple "to the cleaners."
Melissa is a disc jockey at WBCN-FM and a music news reporter for Rage TV, both in Boston. She hopes someday to be a celebrity in her own right, and promises BizBuzz an exclusive.
BizBuzz runs each Friday on GettingIt.