Hamster Dance Enhanced
Internet cult goes MTV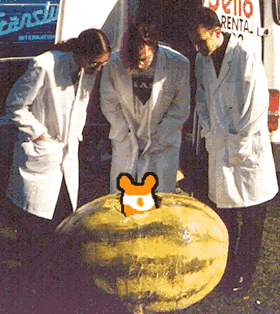 The Hamster Dance Web site has spawned an eerie, disturbing music video. After racking up over 17 million visitors for the jiggling animated rodents, the page found its way to unsigned U.K. band the Cuban Boys, who sampled its infectious yodel for an April 27 appearance on Britain's John Peel show.
The looping riff -- titled "Cognoscenti Vs. Intelligentsia" -- instantly became Peel's most-requested record since the Sex Pistols' mid-'70s hit "God Save the Queen," and the hamsters were on their way to fame and fortune. Almost overnight, the Boys received a recording contract with the Pistols' label EMI. As the band's official site tells us, it was "one year and three days after the band were formed in a cloud of cynical insanity." What next, but a hamster-y music video?
The video involves a baby found in a watermelon and has a creepy, lifelike hamster in a rolling plastic ball opening its mouth to sing the familiar refrain. But is it the same hamster? Careful listeners complain that the telltale yelp -- Dee dee dee, doo doo, doo-doo doo -- has been recreated, presumably to avoid copyright issues over the original 9-second clip, a speeded-up sample from Walt Disney's heavily-protected soundtrack for their 1973 cartoon Robin Hood.
Other subtle differences have crept into the various samples. The song still includes the same closing, presumably the sign-off from a children's show. ("And this is your Uncle Dan saying good night. Good night, little kids, good night.") But it has apparently eliminated Uncle Dan's next line. "We're off? Good, well that oughta hold the little bastards."
Still, delighted listeners insist the song is a shoo-in for John Peel's "Festive Fifty" come Christmas. And they've already begun posting lighthearted messages on the Cuban Boys' fan board:
"News Just In: Hamsters, angry at the plagiarizing of their sacred song, have been holding mass demonstrations in Trafalgar Square. A spokesperson for the irate hamsters said 'please be careful not to stand on us.'"
There really is no holding the little bastards.
David Cassel is GettingIt's Hamster Dance Correspondent.