Avoiding The Ugly Gene
Frightful fathers beget gorgeous daughters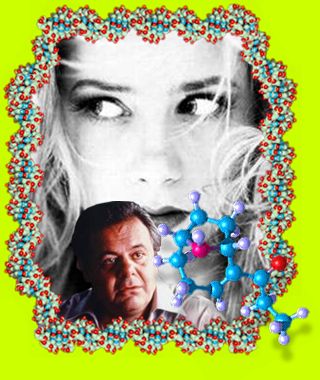 Liv Tyler is the flesh and blood of Aerosmith frontman Steven Tyler. Hard to believe, isn't it? That a raven-haired, blue-eyed, lush-lipped, long-legged beauty could derive half her DNA from a man who looks like Skeletor with long hair and a scrotum for a face.
Elizabeth Jagger, ugly Mick's blossoming offspring? Gorgeous. Apparently unharmed by the paternal half of her genetic makeup, the 15-year-old is launching her own modeling career.
Amazon knock-out Mira Sorvino is the daughter of overweight, Italian actor Paul Sorvino. The man played Henry Kissinger in Oliver Stone's Nixon. That Mira can show her face in public, and nonetheless be described as "gorgeous," is nothing short of a biological miracle.
Juliet Landau, daughter of Martin "can pass as Bela Lugosi" Landau, is a total hottie. She was last seen strutting her hot stuff as Drusilla on Buffy the Vampire Slayer.
While it is hardly a steadfast rule that unattractive famous men have undeniably beautiful daughters -- one need look no further than Chastity Bono and Tori Spelling for evidence to the contrary -- it does seem to happen frequently enough to raise suspicion. We citizens of the real world are forced to make due with the features our parents pass on to us. Celebrity kids, on the other hand, seem to be granted immunity from their parents' worst traits. Hence Mira is tall and thin, and Liv is an eye-pleasing siren instead of the terrifying cross between Gilda Radner and Tommy Lee Jones you'd expect.
How is this possible?
Like Mother, Like Daughter
No matter how horrible to look at, famous men, by virtue of who they are, land beautiful wives and mistresses. Would Jerry Hall have given Mick a second glance if The Rolling Stones had gone no further than playing London pubs? I don't think so. Both Liv Tyler and Elizabeth Jagger have models for mothers. While it seems difficult to fathom, perhaps there is some evolutionarily advantageous code embedded within strands of DNA that says: If the mother is a babe and the father is anything but, give preference to her features over his. This could probably explain most of the gorgeous offspring of unsightly fathers. What went wrong with Judy Garland's daughters Liza Minnelli and Lorna Luft, however, we'll never understand.
Plastic Surgery
If you're the daughter of a celebrity, chances are you can afford to fix all that is wrong with you -- from a crooked nose and small tits to weight problems, undefined cheekbones, and abs of veal. Liv Tyler claims to have been an ugly duckling until she turned 14. Who knows what improvements she, Mira, Elizabeth, Juliet, and others have made with help from the wonders of modern medicine and well-paid personal trainers, nutritionists, day spa technicians, and dermatologists? With the right plastic surgeon and beauty support staff, perhaps Tori Spelling (whose father is hardly a pleasant sight to behold) and Chastity Bono (whose own mother has had no shortage of "work" done) could have been dazzling beauties.
Ugly Sister in the Attic
When the child of a celebrity -- hideous or handsome -- grows up to be a babe, she inevitably seeks after a little limelight of her own. For better or for worse, Natasha Wagner, Gwyneth Paltrow, Liv, Elizabeth, and Juliet are riding on their parents' coattails. But what of the celebrity children who grow up looking ordinary, or worse? If they are deluded (like Tori) or just don't care (like Chastity), then we, the readers of People magazine's Best and Worst Dressed issue, see that ugly celebrities can indeed beget sub-gorgeous offspring.
More often, I'd wager, the less attractive progeny of famous parents are simply ignored by the spotlight. Their pictures do not appear in People. Their fashion mistakes and triumphs remain private events, and their absence from the public eye creates the illusion that every child of an ugly rock star or hideous actor blossoms into a vision of perfection.
Jenn Shreve is a freelance writer in San Francisco and a media columnist for Salon.com.
Jenn's column runs every other Wednesday on GettingIt.