Industrial Strength
Meg Lee Chin holds her own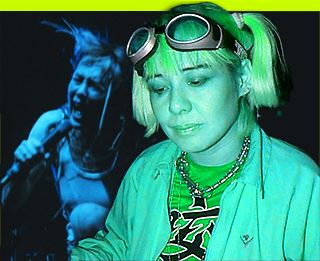 Standing 5'2" and sporting a pair of pink pigtails, Meg Lee Chin doesn't look all that dangerous. But put on a copy of her self-produced solo industrial debut, Piece and Love, and you might think twice about pissing her off. From the first angry seconds of the opening track to the final chords that grind the album to a halt, Meg screams and snarls her way through songs about the end of the world, the end of love, and an updated version of Allen Ginsberg's Howl. Written, recorded, and produced in her living room on her homemade PC, Meg Lee Chin's work is practically the definition of DIY.
Meg's love of technology began early, when she started hanging out in her father's workshop. She built her first radio from a kit at age 10 and tinkered in electronics classes in high school. And although she majored in video production and experimental art at San Francisco State University, she quickly ditched her original vision of becoming a filmmaker in favor of making music. She started producing demos for local groups, including classmate Roddy Bottum's band Faith No More. And she fronted a variety of bands ranging from "a boy-rock cover band" to the British all-girl group Crunch, which became the first Western band to play in the Ukraine after the dissolution of the Soviet Republic.
After Crunch broke up in 1996, Meg got a call to audition for Butch Vig's new band Garbage. She flew to Wisconsin and immediately got the lead singer spot, only to learn that she'd have little or no creative input. She quit after just one day. Promptly returning to England, she was asked to join the new anarchic industrial project Pigface -- led by ex-Ministry drummer and producer Martin Atkins.
With Pigface, Meg could be as hands-on and as experimental as she wanted -- and carry over what she learned to the songs she was writing for her solo Piece and Love. "I love to record voice," she confesses. "I love to turn random conversations into music, warp people's voices into instrumentals." Throughout the album, snippets of spoken word punctuate the otherwise wholly-electronic industrial beats and synthetic keyboard buzz.
Listen closely and you'll hear her jaded view of the world: "I saw the best minds of my generation running on empty/superglued to the TV/dreaming of prosperity/talking incessantly/saying nothing." Meg says her sensibility comes from a nomadic childhood. She was shuffled from place to place whenever her father, a U.S. Air Force electronics engineer, was stationed at a new base.
"I'm a disappointed optimist," she explains. "When I was seven years old, we were living in Taiwan, and I saw little kids my age starving to death in the streets. I used to beg my mother, 'Can't we take them home?' and she'd say, 'Yes, we can bring this one home, and then tomorrow there'll be two more at the door, and the next day, there'll be four, and then eight, and then what will you do?' That was really, really hard for me to deal with -- that, and then moving to the United States, and having people not understand certain things about the world, that places like the one I'd just left really existed. Actually, that's why I've stayed in London for so long. England's kind of like halfway in between both extremes, and I like that."
"My family was not very happy with me being a musician," she confesses. "My mom's Taiwanese, and she went through a war where people were starving, and making music really wasn't a permitted luxury. Me being a musician was considered a horribly frivolous thing to her for a long time. It wasn't until this Chinese friend of hers heard my demo tape and said to her, 'Oh, she sounds like Boy George!' -- which I don't -- and my mom asked, 'Who's Boy George?' and the friend said, 'Oh, you know -- that guy. Pretty, real pretty, nice makeup, and he's really rich and he makes a lot of money.' That my mom could accept."
Along with the release of Piece and Love (Invisible Records), Meg and former Chemlab frontman Jared Louche put together a three-week North American tour (running through November 22) called Soapbox Beatbox. "I like the idea of going around and talking about our music to audiences rather than just getting up there and playing it," explains Meg. The performances are intensely intimate, purposefully set in smaller bars and record stores. It's about as close as you can get to hanging out in Meg's living room -- with her snarling spoken word pieces against the backdrop of a drum machine and a guitar.
Holly Day's writing has most recently appeared in Guitar One, ROCKRGRL, Music Alive!, and EYE Magazine.