Bizbuzz
Eminem, Jay Leno, Baywatch, and more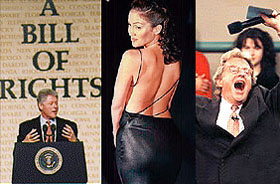 Punted. Rapper Eminem has been booted from the National Football League. Westwood One Entertainment reports that the NFL had originally signed on to use Eminem's song "My Name Is" for promotional purposes. It pulled out of the deal after learning the song referred to drunk driving, drug use, and violence towards women. Apparently it feels those areas should only be explored by its players.
A one-track mind. Officials at Amtrak want Jay Leno to stop making jokes about train wrecks. A battle of wills began in 1994 when a Tonight Show skit parodied an Amtrak derailment. At the time, Amtrak pulled all of its advertising from NBC. Leno has made a point of wisecracking about the company ever since. Amtrak spokespeople are now asking viewers to "bombard" the show with complaint letters to force him to stop. Leno says the company's request is completely off track.
You're my inspiration. A new charity book to raise money for the learning disabled reveals the real stories behind the music, but the anecdotes aren't always as inspiring as one might imagine. Leo Sayer says the idea for one of his hit songs struck him at the same time a taxi did. The British band Chumbawamba says their biggest song was born at their favorite pub. And U2's Bono says the song "The Sweetest Thing" was written as a last minute gift for his wife's birthday, which he had forgotten. It should have been called "The Cheapest Thing."
Touch this. Billboard reports the powers that be at CBS weren't amused by ads for the new film Dogma, which played off the title of one of the network's most popular shows. Recent advertisements for the controversial film featured the tagline "Get touched by an angel." CBS lawyers forced the film's distributor, Lions Gate, to withdraw the tagline, or else "get slapped by a lawsuit."
A little help from his friends? Reuters reports that former Diff'rent Strokes star Gary Coleman has teamed up with UGO Networks Inc. for the Gary Coleman Celebrity Web-a-Thon. The actor, who filed for bankruptcy this summer, hopes to get back on his financial feet by selling candles, lighters, plates, stickers, and T-shirts bearing his name or image. He stands to make a small fortune.
The show must go on. The Associated Press reports the people behind Baywatch Hawaii aren't too concerned about losing the acting skills of David Hasselhoff. The show's executive producer says the series will do just fine without Hasselhoff's character, Captain Mitch Buchannon. Viewers have plenty of other boobs to watch.
Melissa is a disc jockey at WBCN-FM and a music news reporter for Rage TV, both in Boston. She hopes someday to be a celebrity in her own right, and promises BizBuzz an exclusive.
BizBuzz runs each Friday on GettingIt.