A Royal Bore
Did you know Prince Charles has official feathers?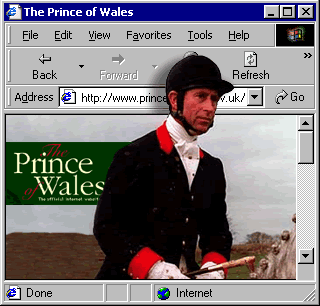 One would think that if you were the Prince of Wales, and every miniscule detail of your life -- from birth weight and gardening skills to bulimic wife and extramarital affairs -- had been made public knowledge, there would be no need to include an "About The Prince" page on your personal Web site.
Think again. Prince Charles' site not only has such a page, but the biography section alone is divided into 18 tedious parts.
In stilted prose, the site tells us repeatedly that in July 1967 the heir to the throne received a B in history and a C in French. We learn that young Charles Philip Arthur George's governess was named Catherine Peebles. For his christening, he wore a "robe of white silk and Honiton lace, used by all the children of Queen Victoria." His activities, which range in predictability from polo to gardening, are expounded upon in excruciating detail in eight separate pages. "During his stay at Timbertop, the remote country branch of Melbourne's Geelong Grammar School in Australia," the sub-section on performing arts explains, "His Royal Highness joined a brass trio."
If such information isn't sufficient to lull you into a slack-jawed, droopy-eyed stupor, then get a load of the section on the Prince's official feathers! "The badge of The Prince of Wales comprises three silver (or white) feathers rising through a gold coronet of alternate crosses and fleur-de-lys. The motto 'Ich Dien' (I serve) is on a dark blue ribbon beneath the coronet." Wowee zowee.
A great deal of type is given to his charity work, of course. The Princes William and Harry each get a page, and are included in the news updates and photo galleries. And if you really want to get up close and personal with the Prince, you can read his opinions on various matters of little importance at his online forum. Charles' speeches and articles are reprinted too, their titles evocative of some dread parochial nightmare: "Integrated Healthcare: Follow-up to a Discussion Document" and "Seeing is Believing about Beef."
You want to talk about beef, Charles? What of ill-fated Princess Diana, to whom you were married for 15 years? She gets just a few short paragraphs and a link to a separate Web site. Camilla Parker-Bowles, considered the love of His Royal Highness's life, gets no mention at all. In a site as slick, detailed, up-to-date and thorough as this one, these omissions are certainly not accidental. So where's the beef?
Presumably, Prince Charles launched his site to make himself more accessible to his "subjects." After Diana's quietus, he was under pressure to carry her mantle -- to seem less callous and more plebian than before. Yet the closest we get to His Princeness are a few personal essays expounding on his conservative views on architecture. They can be summed up as follows: Everything built today should look like it was built more than 100 years ago.
One senses that Charles is clutching to that same notion of preservation when it comes to his own royal role; he's preserving the dignity of the monarchy, even while the world has long passed such institutions by. His site gives the official version of the story -- royal robes and archaic titles -- while the reality of divorce, dysfunction, and misery blares off the covers of tabloid newspapers and daily TV "news" shows. His Web site straddles the new and the old by presenting the same old well-crafted tale in a new medium.
The real dichotomy of Prince Charles' life has little to do with new vs. old. He is a celebrity by birth and an anti-celebrity by nature. He hides behind the official version of his life story because he has nothing more interesting to offer. His failed marriage and love affair only interest us from the women's perspective; his side of the tale is obvious and bland. Not only is Charles a private man, but he's dull and typical: Cowed by his mother, he chose love over duty, only to be outshone by his wife. Now he is reduced to a doddering sweater-vest guy who gardens and pontificates to escape the unpredictable actions of human beings.
Jenn Shreve is a freelance writer in San Francisco and a media columnist for Salon.com.
Celebrity Web site reviews run every Tuesday on GettingIt.