Bizbuzz
Milla Jovovich, Aerosmith, Pete Rose, and more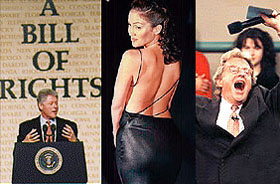 Set your VCR. TV Guide Online reports the newest Barbara Walters special, Barbara Walters Presents the 10 Most Fascinating People of 1999, will air November 30th on ABC. While she won't reveal the name of the most fascinating person on her list, Monica Lewinsky, Susan Lucci, and Ricky Martin are among the runners-up. Too bad Al Gore and the Olsen twins were busy.
All creatures great and small. The National Enquirer reports that actress Milla Jovovich interrupted the filming of a battle scene in The Messenger: The Story of Joan of Arc to save a worm's life. Jovovich reportedly screamed "stop" mid-scene when she saw her horse was about to trample the helpless creature. She then proceeded to dismount and move the worm from her path. When she was sure it was out of harm's way, Milla hopped back on her horse, dug in her spurs, struck one time with her riding crop, tugged on the reigns, and gallantly galloped away.
Accidents waiting to happen. The city of Boston has teamed up with the rock group Aerosmith to help pedestrians be more careful. The city launched a campaign this week named after the Aerosmith song "Walk this Way." The program is designed to encourage people to press the walk button before crossing the street and to stay in the crosswalk. In response, Boston's notorious jaywalkers launched a campaign of their own based on another Aerosmith tune; it's called "Dream On."
Name calling. Time magazine reports the artist formerly known as Prince doesn't like the sound of his own name. The diminutive singer says his name is just an unpronounceable symbol and should only be written, not spoken. In that case, let's just call him a pretentious "#%@&!"
Presto-chango. The rumors that David Copperfield and Claudia Schiffer have split are true. While the magic man says he still remains friendly with the supermodel, he attributes the breakup of their six-year engagement to their very different careers. Copperfield told a German magazine that he'd been seeing "less and less" of his bride-to-be. They warned him to keep her away from that disappearing box!
Pete takes the podium. Controversial baseball great Pete Rose will make his first talk show appearance in more than a decade. Rose is scheduled to appear on The Martin Short Show November 19. Ten-to-one odds he talks to Oprah too.
Irish eyes aren't smiling. Apparently the Irish-American community was less than pleased with this week's NBC miniseries The Magical Legend of the Leprechauns. Billboard reports Irish-American newspapers were deluged with complaints from angry viewers who felt the program depicted Ireland as a land filled with alcoholic leprechauns. A publisher for one Irish newspaper in L.A. said the absence of any media watch group for the Irish has caused newspapers like his to become the only place for the Irish to "…voice [their] ire." Well, aside from the pub.
Melissa is a disc jockey at WBCN-FM and a music news reporter for Rage TV, both in Boston. She hopes someday to be a celebrity in her own right, and promises BizBuzz an exclusive.
BizBuzz runs each Friday on GettingIt.