Gnostic Hip Hop For Jews
Blood of Abraham: such nice boys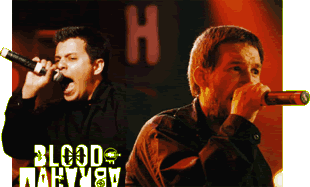 The Beastie Boys went Buddhist. 3rd Bass disbanded back in '92. Clearly, the rap world has been aching for some nice Jewish boys to represent with crazy matzoh ball rhymin' and some chicken phat style.
Enter Blood of Abraham, the baddest boys under the covenant -- or, at least, they'd like to think so. They radiate a kitschy kind of machismo, just what you'd expect from Van Nuys-raised NJBs who've earned their hip hop creds with album titles like Future Profits (released in 1994 on Eazy-E's Ruthless Records) and Eyedollartree (due out in early 2000). The Blood brothers met during their senior year of high school -- in 1989, the same year Public Enemy's Professor Griff was quoted in The Washington Post saying, "Jews are responsible for the majority of wickedness that goes on across the globe."
For whatever reason -- whether calculated political move or genuine move towards healing old riffs -- PE asked the Blood boys to open for them on their current tour. I caught up with Benyad and Mazik -- a.k.a. Benjamin Mor and D. Saevitz -- in San Francisco to talk spiritual insight, Pavlov's dogs, and Woody Allen. Yo.
GETTINGIT: According to your marketing material, you guys do Gnostic Jewish hip hop. What's Gnostic Judaism?
BENYAD: We deal with universal principles. Our music crosses all boundaries, to the universal themes of spirituality. Gnosticism is a belief unto itself; we all have the same take on life.
MAZIK: No, we don't, um, follow that at all. We just make music.
GI: So where's the Jewish part fit in?
M: We just, like, wanted to pick a name that someone would remember. Abraham is the father of both Isaac and Ishmael. It's like having a general sense of everyone under the sun. The Jewish thing isn't so big. We fast on the High Holy Days; we atone one day, but the rest of the year we eat pork.
GI: What're you trying to say with your music, then?
B: We want to make sure when we're older that our grandkids say, "Aww, yeaah." We're not being followers. It's about self-awareness, knowledge of the self. On the level of all life -- like, empowering people. Thinking out of the box. You know? Like, don't be programmed. People are like Pavlov's dogs. It's all about originality.
GI: That's, like, way deep.
M: Yeah, man. So, like, with "Omega Ton" [a song off Eyedollartree] we pushed the envelope on all levels. It takes place in the not-so-distant future, when the most precious commodity is water. So we find this mystic place, and trade women for clean water.
GI: Hmm, so women are a currency, huh? Is that like a Thai sex ring thing?
B: We weren't trying to change anything. Unfortunately, when water is a rare thing... it's a harsh reality.
GI: So ...?
B: Yeah, women are a commodity to be traded. It's, like, the harsh reality that someone would do that.
GI: What does your mother think of you making songs like that?
B: My mom's always been supportive. Our parents have always been there for us.
M: And like, Mazik's a nickname my grandmother gave me, and I wear it with pride. It's Yiddish for "pest," which is cool for like, taggin' up on the walls. And it rhymes with a lot of stuff.
GI: Do you consider your touring with PE a political statement -- a chance to send a message about working together?
B: We have no missionary zeal. No one Jew represents all Jews, no one black person represents all black people. You can't set out to change anyone, you can only express your true self. We were kickin' it with Griff just the other day; he's cool, yo. It's the powers that be that try to scapegoat, not us.
M: Like with the song "Niggaz and Jews" [off the Future Profits album]. We wanted to make it deeper than it actually was, but it was cool. The song's like, ignorance is a powerful thing to mislead people, and everyone's got a common enemy.
GI: A common enemy? What or who is that? White capitalist man?
M: No, it's just like, um, everybody's got enemies.
GI: OK, so the real question: Woody Allen or Barbra Streisand?
B: Woody Allen. He's all bitter and shit. That's cool.
M: Streisand. She's kinda sexy in that movie ... what's it called? I or somethin'? She's bangin'.
D. R. is a legend in her own lunchtime.