Bizbuzz
Martha Stewart, Ricky Martin, Danny Glover, and more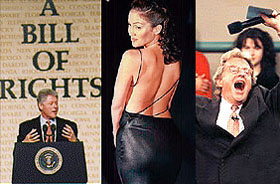 Nearly-naked news. The New York Post reports that newscasts may be more uplifting in the new millennium. Jay Schorr, a Miami-based producer, has been creating quite a stir with a proposal for what he is calling the Bare Essential News. The innovative shows would feature newscasters reading straight news in bikinis and Speedos, without making any reference to their attire. Gives new meaning to the term "talking head."
Don't mess with Martha. The National Enquirer and Martha Stewart have settled a $10 million libel lawsuit. Stewart sued the tabloid over a 1997 article entitled "Martha Stewart Is Mentally Ill." The story alleged that the world's most famous homemaker experiences "a near constant anger," "has frantic fears of being abandoned," and has "threatened suicide." When asked to comment on the statements Ms. Stewart replied, "Those fucking bastards have caused all my fans to leave me and if they don't take it back, they'll be sorry when I'm not around!"
Gay play, no way. An East Texas county has withdrawn its funding for a local college's annual Shakespeare festival because the school refused to cancel a play about gay men. Reuters reports that the county had pledged $50,000, but withdrew the donation after Kilgore College ignored requests to ax a production of Angels in America. The commissioners won't make grants to a theater department that supports homosexual themes... Apparently they haven't read Shakespeare's sonnets.
Only the real Ricky will do. The Associated Press reports Ricky Martin's lawyers won a last-minute federal court order barring the sale of counterfeit shirts at a concert in Detroit this week. Attorneys claim counterfeit merchandise peddlers earn up to $1,000 per show. Many pop stars are starting to take similar actions, saying the merchants are stealing business away from the artists. When asked if she had similar problems at her shows, teen queen Britney Spears said "never"; she insists everything at her performances is 100 percent authentic.
Perhaps a lethal weapon would have helped. Danny Glover is accusing New York City cab drivers of racism. Reuters reports that the actor filed a complaint with the city's Taxi and Limousine Commission charging discrimination. Glover says he was recently passed up by at least five empty, on duty cars as he tried to get a ride in Harlem. He alleges he was intentionally rejected as a passenger because he is black. It wasn't because he is black; it was because he's not Indian.
A recipe for success? TV Guide is launching a new magazine that focuses on celebrities in the kitchen. TV Guide Celebrity Dish will feature famous people talking about cooking and sharing their favorite recipes. According to Reuters, the monthly magazine hits newsstands Monday. The first issue features Matthew McConaughey sharing baking tips. First tip: Make sure the neighbors aren't home before lighting up.
Melissa is a disc jockey at WBCN-FM and a music news reporter for Rage TV, both in Boston. She hopes someday to be a celebrity in her own right, and promises BizBuzz an exclusive.
BizBuzz runs each Friday on GettingIt.