Bizbuzz
Larry King, The Real World, Courtney Love, and more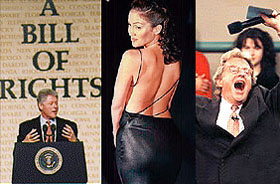 Long live the King. According to the Associated Press, Larry King, 65, and wife Shawn, 38, are expecting their second child. King recently boasted to The Atlanta Journal- Constitution, "I'm reinventing manhood." Sources close to the family say the child's name will be a tribute to his father's sexual prowess: The baby will be named Viagra King.
Southern hospitality. Variety reports that the next season of MTV's The Real World will be set in New Orleans. While MTV will not confirm the report, casting calls are rumored to be underway, and producers are allegedly searching for a cast house near Bourbon Street in the French Quarter. That's a prime location for Mardi Gras festivities: when the Real World folks will be drunk, obnoxious, and naked in the streets. Unlike the rest of the year, when they're sure to be drunk, obnoxious, and naked in their house.
Howard's on the prowl. The New York Daily News reported Howard Stern and his wife Alison have separated. Stern confirmed the news during his radio show Monday, saying that although he and his wife still love each other, their 21-year marriage has not been happy for quite some time. The shock jock maintains infidelity was not an issue in the split. That can't be entirely true; Howard's been having a love affair with himself for years now.
We love marriage, yes we do. Westwood One Entertainment reports the cast from The Story of Us have their own ideas about how to make a marriage last. Michelle Pfeiffer says her marriage works because she picked "the right guy." Rita Wilson agrees that picking the right mate is crucial, although husband Tom Hanks says the real secret is "great sex." Bruce Willis has a different take; he believes that life is a "series of monogamous relationships." If you doubt his integrity just check his record; he was monogamous with every one of his mistresses.
Words of wisdom. Courtney Love plays Dear Abby in the November issue of Marie Claire magazine. The rock diva answers readers' questions on topics ranging from fashion to sex. Some of Ms. Love's pearls of wisdom include tips on not dressing "slutty," avoiding plastic surgery, and how to keep a man. Oddly enough, Courtney doesn't include a "how to" section on practicing what you preach.
I was a teenage porn star. Hunky actor Simon Rex talks candidly to TV Guide this week about his current successes and his past mistakes. Rex, who plays a bartender in the new WB series Jack & Jill, has been receiving criticism since it was discovered he'd been in a number of porn films. Rex says that although his first acting jobs are not something he's proud of, it was a matter of economics: He wasn't earning enough "busting [his] hump" as a busboy. Apparently humping a bust is much more profitable.
Melissa is a disc jockey at WBCN-FM and a music news reporter for Rage TV, both in Boston. She hopes someday to be a celebrity in her own right, and promises BizBuzz an exclusive.
BizBuzz runs each Friday on GettingIt.