Bizbuzz
Jennifer Love Hewitt, South Park, Dionne Warwick, and more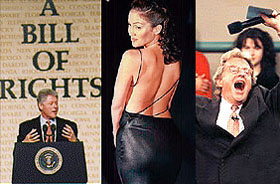 Ain't nothing like the real thing, baby. Jennifer Love Hewitt stands behind her boobs in the September issue of Detour. The actress says the revealing tight shirts she wore in the film I Know What You Did Last Summer prompted rumors that she'd had her breasts surgically enhanced. Hewitt denies the allegations, and even goes so far as to wear a T-shirt proclaiming, "Silicone Free." Her "Saline Free" shirt must be in the wash.
Gather 'round the TV, kids, it's family time. According to StudioBriefing, the Parents Television Council is hoping to see a return of family values to prime-time TV. The group wants shows scheduled between 8 and 9 p.m. to be part of what they're calling "family hour." The council claims that over the last year and a half, the amount of offensive material in that time slot has risen 75 percent. The acting on Suddenly Susan accounts for 74 percent.
How about "Uncle Fucker"? A Canadian woman has filed a complaint with the Canadian Broadcast Standards council over the cartoon South Park, claiming that the recurring killing of the character Kenny has had a negative impact on her eight-year-old son, Kenny. Mr. Showbiz reports that the woman requested the character's name be changed to "a nonexistent name" like "Doofus." Apparently little Kenny hasn't told mommy what the kids on the playground are calling him ever since she went public with her concerns.
Road trip. The Pringles Entertainment Zone Web site reports that talk show host Jerry Springer will be filming 10 segments in the UK. While the controversial show has been receiving a lot of criticism in the U.S., apparently the Brits feel it's "all that and a plate of fish and chips."
You go, Pam. TV Guide Online reports Pamela Anderson Lee's V.I.P. has made huge gains in its ratings. The program is now tied with reruns of ER as the number two show in weekly syndication (a rise of 13 percent in just a week's time). The success is being attributed to a minor change in programming; Pamela's outfit changes now outnumber her lines.
Missing any Solid Gold? More than $53,000 in cash and belongings was stolen from Dionne Warwick's house in Rio de Janeiro. Infobeat reports five men entered the home and tied up the singer's brother and housekeeper before ransacking the place. The burglars gained access to the property by disguising themselves as repairmen. Where are those "psychic friends" when you need them?
Melissa is a disc jockey at WBCN-FM and a music news reporter for Rage TV, both in Boston. She hopes someday to be a celebrity in her own right, and promises BizBuzz an exclusive.