Bizbuzz
Melanie Griffith, Antonio Sabáto Jr., Duran Duran, and more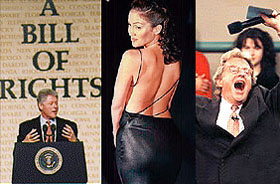 Just one word: plastics. Mr. Showbiz reports that Tupperware refused to let its brand name appear in the film Crazy in Alabama. The makers of the practical plasticware were worried about the negative consequences of being associated with the plastic container Melanie Griffith's character uses to carry around the head of her murdered husband. No word yet about whether the American Board of Cosmetic Surgery is worried about the negative consequences of being associated with the plastic container Melanie Griffith is carrying around as her body.
Girls on film. The '80s pop group Duran Duran has dropped a libel suit against England's Sun newspaper after receiving a public apology and monetary damages. According to Billboard, the band raised objections over an article that claimed they'd resorted to paying people to pose as fans while shooting an upcoming film. A female friend of the group says it's not uncommon for them to use actors and extras when shooting films or videos. The woman would not give her name, but sources close to the band say her name is Rio.
George Carlin will need to revise. According to Mr. Showbiz, last week's episode of Chicago Hope was the first network TV series to break the "seven dirty words" broadcast obscenity barrier when Mark Harmon's character said "shit happens." Michael Pressman, the show's executive producer, said that he was surprised by objections to the language and had felt it would go relatively unnoticed. It really isn't a big deal; the networks have been putting shit on the air for years.
No excuse. The November issue of US magazine reports Antonio Sabáto Jr. is trying his hand at writing. The hunky actor has penned a book, No Excuses, which explains his workout routine in easy-to-understand terms. Sabato says it's important that the average American find a workout program that is simple and really works. The book is guaranteed to bring results to Mr. and Mrs. Middle America. Just think of the exercise they'll get moving it off the coffee table to make room for their TV dinners.
Kiss and tell. According to the New York Post, an upcoming episode of Ally McBeal will include a rather passionate kiss between Ally and her female co-worker, Ling. The "Buried Pleasures" episode, slated to air November 1st, is already drawing criticism. The outcry isn't surprising; many conservative groups feel interracial relationships are not appropriate subject matter for prime-time TV.
Nikki Taylor, look out! Elle magazine reports the supermodel of the new millennium is more artificial than the supermodel of today. Meet Webbie Tookay -- the first ever computer-generated fashion model. Tookay (pronounced 2K) is part of Elite Modeling Agency's new virtual model division and is sure to be a success, at least with male audiences. She'll always be ready and waiting on their desktops, she's extremely easy to turn on, and she's virtually irresistible.
Who cares? Westwood One Entertainment reports that The Who are reuniting. Roger Daltrey says the band is in the early stages of planning the reunion, which will include an album and a tour. Daltrey says the band finally decided to get back together not only for their old fans, but also for the new generation of Who lovers he insists is out there. He may be right. A group of teenagers recently questioned as to which band they'd most like to see reunite -- The Who, The Beatles, or The Doors -- overwhelmingly responded "the who?"
Melissa is a disc jockey at WBCN-FM and a music news reporter for Rage TV, both in Boston. She hopes someday to be a celebrity in her own right, and promises BizBuzz an exclusive.
BizBuzz runs each Friday on GettingIt.