Impersonal Best
Kelsey Grammer online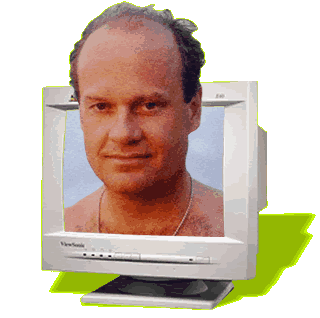 It's probably no coincidence that Kelsey Grammer launched his Web site shortly after he became embroiled in a bizarre legal battle with the Internet Entertainment Group, an online porn peddler best known for thrusting the Pamela and Tommy Lee "honeymoon" video into the light of day.
Last October, the Frasier star sued IEG, claiming the company had come into possession of a stolen video showing him "voluntarily engaging in sexual and intimate relations" with a "filmed female." (Said "female" was reportedly a woman he dated before marrying his third and current wife, Camille.)
IEG denied the charges and countersued. Grammer quickly dropped the suit, but IEG was just getting warmed up. It produced a "What You Would Have Seen, Had We Had the Video" parody titled Kelsey Grammer, Butt-Plugged Mensch or Wench?, which featured a doctored picture of the TV psychiatrist gratifying himself. Oh, the power of the Internet.
Surprise, surprise, there's no mention of the IEG lawsuit on KelseyLive.com, and there are no details on his two drunk-driving arrests or the cocaine bust that earned him jail time! Interested in learning what really happened between the actor and that underage New Jersey girl back in '93? Don't look for answers here.
Instead, like so many star sites, Grammer's is a warm and fuzzy take on Grammer: where he's portrayed as a happily married man, living the California dream with his beautiful and buxom wife Camille and their adorable dogs. How subtle is this message? The site's opening page features a beaming and barefooted Kelsey and Camille surrounded by pictures of their romping canines. Awwww.
As the "welcome" message informs us: "Camille and I have relied on interviews and television appearances to convey a personal side of our lives, but never has it been to our satisfaction." Now, Grammer explains, he and Camille can cut out the "middle man" and speak directly to the people.
But what is the happy couple saying? Not much. In fact, you can learn more about the backgrounds and habits of their four-legged family members -- Zen, Red, and Buster -- than the personal lives of Kelsey and Camille.
It's not as though the now clean-living Grammer has no dramatic tales to tell, especially considering most members of his immediate family have met with tragic ends. Though he disclosed much of his troubled past in his 1995 autobiography So Far, his online bio is curiously lacking in detail, focusing mainly on his childhood and education. A "to be continued" promise on the bottom of the page has yet to be fulfilled.
While Camille's bio is slightly more detailed, it strategically leaves out her spread in Playboy in favor of her teeth-cleaning skills and booty-shaking gig on cable: "I got a job with MTV as a principal dancer on a show called Club MTV. My career as a dental assistant was slowly coming to an end."
Grammer misses plenty of opportunities to open up to his fans. He's posted a surprisingly impersonal essay on alcoholism that tiptoes around his own well-publicized battle with the bottle in favor of making 12-step pronouncements such as "Being an alcoholic is nothing remarkable in and of itself. It is merely a disease." When Grammer does reveal bits of his dented past in a piece titled "True Confessions," it turns out to be a reprint of an article he did for Details magazine earlier this year.
Back in December, Grammer told USA Today that he wanted to "humanize celebrity and make it accessible" through his Web site. "I have felt alienated and isolated from people," he said. "In an odd way, by opening up my life, I take control and my privacy is reinstated."
Grammer has taken control all right: He's become his own gatekeeper -- yet another obstacle to keep his fans from getting too close to the real person. A note on the front page says the site is currently being revamped, but no redesign will give it what it needs the most: some heart and insight (and clips from that video with the "filmed female" wouldn't hurt either).
Kat Giantis writes about popular culture, even though she lives in Seattle.
Celebrity Web site reviews run every Tuesday on GettingIt.