It's A Beautiful Day In The Neighborhood
Another bowl, Mister Rogers?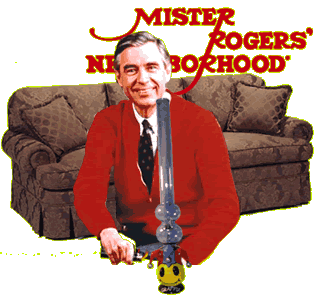 Ismoked dope and answered Mister Rogers' fan mail. I wonder how he'd feel if he knew? Would he still want me to be his neighbor? Still think I was fancy on the inside? Or would he hate me if he knew he signed his name to letters a stoned-ass degenerate wrote for his approval?
I got the job through a college internship program. I couldn't wait to begin. I never trusted the man: No grown-up was that calm. I wanted to see what Fred was really like. I entered the most wholesome workplace in America just minutes after smoking my morning bowl, and no one knew I was high because I never let them see me straight. I walked by the pair of tennis shoes preserved behind glass and gazed at pictures of Trolley and Daniel Striped Tiger, eager to start my transformation from Whorella to Mister Rogers.
The first step was taking a crash course in Fred (he insisted we all call him "Fred"). I discovered he is a color-blind vegetarian Presbyterian minister who swims every morning. He was the sickly child of an overprotective mother who kept him in his room, and it was his grandfather McFeeley who told him that he was okay just the way he was. I started to feel for little Freddie, and began managing his fan mail with all the love I had.
The letters were nothing like the happy kiddiefest I'd expected. Fans fell into several categories:
1. Nice old people who loved Fred's daily affirmations about how special they are.
2. Institutionalized mentally-ill people who had no one but Fred to appreciate them.
3. Teenagers who were being ridiculed by classmates and had no one to turn to but Fred.
4. College students, especially boys, who wanted to thank Fred for being a role model on how to be a good father.
5. Writers and educators seeking endorsements for their work.
6. Little kids who sent drawings and letters.
7. Parents of deceased children who had loved Fred.
I wanted to write letters that would forever change these people. I wanted them to know that Mister Rogers is good, that there is one person in the world who is solid in his caring and acceptance. A Russian artist, an elderly woman who admired Fred's simplicity and honesty, poured out her heart in appreciation and asked if she could meet him. I answered with a two-page letter printed on colorful letterhead with the Trolley emblazoned on it and sent it off for Fred's approval and signature.
I couldn't wait for him to see how caring I could be, especially in my blissful state. I got the letter back with my warmest wishes crossed out, entire paragraphs killed by his red pen. Fred? How could you? What a buzz-kill. The show's producer explained that Fred couldn't be a personal friend to these people. He is a television neighbor only.
By the end, I slacked off on my hours and only got a B for the internship. It became increasingly depressing to reach for the mail and pretend to be Fred Rogers instead of Mister Rogers. I know Fred can't be a friend to everyone, but if he just smoked a bowl, maybe he could pretend.
Whorella is a windstorm in bubbleland but there's calm in her eyes.