Bizbuzz
Rebecca Romijn-Stamos, Black Sabbath, Ellen DeGeneres, and more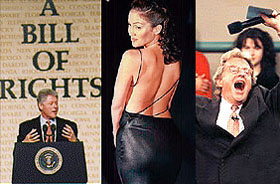 That's some tribute. Westwood One Entertainment reports that Sports Illustrated covergirl Rebecca Romijn-Stamos is trying her hand at a different type of cover. The model is singing her own version of Prince's "Darling Nikki" on an upcoming tribute album. Sources close to the project say the grueling recording sessions took dozens of takes; Rebecca kept getting confused when the album's producer told her to sing "using her diaphragm."
Offending officers. The Associated Press reports that concert-goers weren't the only people misbehaving at Woodstock '99. A number of New York State Troopers are being disciplined for misconduct at the music festival. A police superintendent says several officers posed for pictures with nude young women at the event and others reportedly ran their car through a topless car wash. An investigation is currently underway to identify all the men involved. Eyewitness interviews are being conducted and the women are being dusted for prints.
Take your tribute and... The Rock and Roll Hall of Fame hasn't announced whether or not it will pull Black Sabbath from its list of year 2000 inductee nominees. In a press release issued last week, former Black Sabbath singer Ozzy Osbourne demanded the band's name be removed from the ballot. Osbourne called the voting process "meaningless," "elitist," and "irrelevant." A Hall of Fame spokesperson sulked: "He didn't have to bite our head off."
Ladies in waiting. The Associated Press reports that Ellen DeGeneres and Anne Heche want to tie the knot. DeGeneres spoke about the possibility of marriage last weekend at a ceremony designed to kick off "Coming Out Week." The actress says if the Vermont Supreme Court legalizes same-sex marriages, she and Heche hope to be among the first in line, right behind Ben and Jerry.
We need a Beatle, any Beatle. Pete Best, the original Beatles drummer, will be appearing at a huge fan convention this weekend in Norfolk, Virginia. Festivities scheduled for "A British Celebration" include a '60s-themed fashion show and performances by musicians linked to the fab four. Best will be there at the convention's kickoff, but will leave right before it starts getting big.
Lying low. Michelle Pfeiffer has decided to stay out of the public eye for a while. Pfeiffer tells Harper's Bazaar that her current film, The Story of Us, is the last we'll see of her professionally for quite some time. The actress says being a stay-at-home mom can be very hectic. There's just not enough time in a day to cook, bring her two children to and from school, and dust off all of her husband's Emmys.
An explosive plot line. Variety reports Ted Kaczyinski's brother is headed for showbiz. David Kaczyinski is signing on with Disney to make a movie based on his life. Director John Avnet says the movie tells the story "...of a brother who learns who his brother really is and attempts to save him, in the face of a horrific crime." The film is sure to be a box office bomb.
Melissa is a disc jockey at WBCN-FM and a music news reporter for Rage TV, both in Boston. She hopes someday to be a celebrity in her own right, and promises BizBuzz an exclusive.