The Big Dipper
Wilt Chamberlain's legend lives on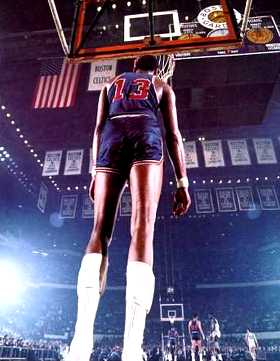 Wilt Chamberlain was a legend. A quick tour of the Internet finds his name on countless Web pages, leaving an immortal impression on the collective consciousness. A story on one site finds a father advising his son, "treat princesses like whores, and treat whores like princesses...and you will score like Wilt Chamberlain." Among all Wilt's records, one stood out: his claim to have bedded 20,000 women. Talk about driving the lane...
That would come out to three sexual trysts a day -- every day -- for 18 years. Nearly two decades after his retirement, the claim in Wilt's 1991 book A View From Above restored his notoriety. And as technology progressed, many of those reactions drifted onto the Web. Wilt ranks number two in list of busiest lovers on the World Sex Records page. (Only one man in the Kinsey report could, with a straight face, claim more.) Another page votes him sex addict of the millennium -- and others have fallen to speculating about Wilt's motives. "That seems to me to be sexually compulsive behavior," comments an expert at Sex Centre.com. "I mean, when you get to 9,999, do you really need another one?"
How did Wilt respond to the controversy? One sportswriter remembers the day a free-lancer asked Wilt about The Count. "If you've read the book," Wilt replied, "you know that on the next-to-last page I say to men who think that having 1,000 different women is a cool thing (that) the real cool thing is having the same woman 1,000 times.
"But no one picked up on that," Wilt added. "Maybe that's why I couldn't find a wife for 15 years."
More recently, Chamberlain even told reporters "I could believe in abstinence." Then added, "I don't know how I could sustain it."
But the legend remained a cultural totem. Six years later, Bill Clinton's sexual peccadilloes gave various pundits another chance to invoke Wilt's name in political commentary. David Letterman claimed Bill Clinton's secret goal was to beat Wilt Chamberlain's record, and Wilt's name also appeared in a Phoenix New Times editorial speculating on Clinton's state of mind. "[I]f Magic Johnson and Wilt Chamberlain and Rod Stewart and Ol' Dirty Bastard and Hugh Grant and, for heaven's sake, Charlie Sheen can partake in a saturnalia of the flesh, and the president can't, well, why bother?"
The same sentiment appeared again and again -- even in satirical remarks about a new political party: "It's called the 'Yah, we won't have sex with every intern we can when we're president' Guys... Everyone can join except for Bill [Clinton], Wilt Chamberlain, any Kennedy, Madonna, and David Copperfield."
Some recognized Wilt's other attributes -- his dominating 7-foot-1-inch height, and his remarkable athletic abilities. But even there, the discussion moved beyond basketball to social issues. For instance, The case for cloning humans: "Of course, we will have to wait about 20 years for the twins of these great sports figures to reach adulthood, and there is always the possibility that the twin might not be interested in sports..."
Wilt even appears in the poignant recollections of an early recipient of growth hormone injections. "While I never thought I'd play center against the 7-footer Wilt Chamberlain, it seemed not impossible that I'd grow to 6-foot-something, tall enough to play alongside my man Walt 'Clyde' Frazier, the Knicks superstar guard."
The advent of Internet newsgroups brought endless banter across the continents -- including a famous urban legend. One variation has Wilt Chamberlain on the elevator with some nervous suburban white women on a trip to the big city. When he says to his dog, "Sit, Lady!" they promptly sit on the floor.
A quick scan of newsgroup posts shows that ultimately, memories of Wilt's sexual prowess may spark conversations reminding people of his other outstanding achievements -- the 100-point game, and the 50-something other NBA records he shattered. Here's a typical post from alt.music.ween: "100 points in a game is a record that will stand forever. Not to mention all the hos he banged. Smoke a phatty for dat pimp daddy!"
In a variety of newsgroups, recollections of his sports career reverberated across the Internet. In alt.smokers.cigars: "I will smoke an ERDM Robusto tonight, in his honor, and the honor of his 20,000+ bereaved girlfriends." And alt.music.prince: "20000 women! All I have to say is daaaaAAAaaaamn. Ladies in the next realm Lookout!"
Others may remember his career on the boards -- the free throws and rebounds -- and turn to sports-oriented newsgroups for appreciation of Wilt. Here's what they'll find in rec.gambling.sports: "Wilt was the original ASSMAN!!!!!!!!!!!!!!! A true legend and not one paternity suit... a true role model of safe sex."
But the Internet is a vast ocean -- and somewhere out there is someone posting about the unlikeliest of topics. Even Wilt Chamberlain's basketball career. A longtime fan turned up in alt.mountain-bike: "Heck, we've got his rookie card!!!!!" And in alt.sports.basketball.pro.ny-knicks, a benediction that's as good as any:
"Rest in peace, pal. Thanks for all the great games."
Lou Cabron is GettingIt's resident asshole.