Spice Girls And Boys
The imminent invasion of a new pre-fab group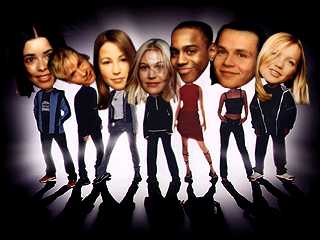 LONDON -- Watch out, America: A new Brit-fad is winging its way across the Atlantic and into your homes. Simon Fuller, the man behind the Spice Girls, is back with "a new concept in youth culture," a band called S Club 7. The secret ingredient -- something the Spice Girls never had -- is that they also play themselves in a top-rated TV show, Miami 7. Renamed S Club 7 in Miami for the Yanks, it's scheduled to debut on the Fox Family Channel in November.
The show is set in a Miami Beach resort where S Club 7 are the house band in a hapless hotel run by an infantile bully named Howard. The show is part Monkees slapstick, part Baywatch oglefest: The lads strut around cocksure, the teenies bounce around in bikinis, and somewhere along the line they're all guaranteed to burst into song. The three boy, four girl combo was eugenically assembled to appeal to every possible taste: petite, toned, blonde, brunette, Asian, black, and, of course, ginger (represented by the impish Hannah, an emasculated Geri Halliwell clone).
Miami 7 is scripted for success by Simon Fuller's brother Kim (the genius behind retrofitting A Hard Day's Night to make Spice World) and a crack team of TV writers from Friends and The Fresh Prince of Bel-Air. It draws up to four million viewers in its mid-week afternoon slot on the BBC, and S Club 7's saccharine summer debut single, "Bring It All Back," instantly rocketed to the top of the UK charts.
With plans for film projects and merchandising opportunities already in place, Fuller has a lot riding on his new group. Let's hope he's learned to keep his hands off the merchandise this time. The father figure to the Spice Girls was caught diddling with one of the daughters -- the youngest one at that, Baby Spice. He was unceremoniously sacked soon after, amid tabloid reports that he'd only ended up with her because the other four turned him down. Not that Fuller has anything to complain about. He received a multi-million dollar payoff from the Spice Girls in addition to more than $75 million from his cut of their earnings.
It seems it's all gone to his head, too. The elusive pop svengali (who also manages Annie Lennox) won't give interviews anymore, he just issues "statements": "Pop music is about celebrity and not just about music anymore and people haven't quite figured it out yet," ran one recent Fuller proclamation. "S Club 7 will take the extreme end of the pop industry that is dominating the charts and make it more acceptable and broaden it out, taking it out of pop music and spreading it out across entertainment."
Despite Fuller's claims, it all looks like one last attempt to cash in on the identikit pop group craze he helped to set in motion and eclipse Spice Mania at the same time. And he can't help but take a shot at his former charges while preening about their new rivals: "They [S Club 7] were chosen primarily because they could do everything. Because the previous group were great at some things and poor at others, and in the bluster of success we could muddle things through."
No bitterness there, then.
Chris Campion lives and writes in London, contributing to (among others) The Daily Telegraph and Dazed & Confused. He also produces his own degenerate art for his t-shirt company, Cloak&Dagger