Bizbuzz
Paul Reubens, Jesse Ventura, Mark Wahlberg, and more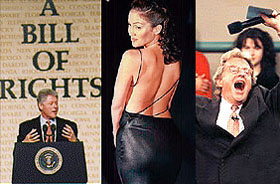 Pee Wee's new play thing. Actor Paul Reubens is set to host a new prime-time trivia show based on the CD-ROM game "You Don't Know Jack." While the project's timeline is still sketchy, detractors claim the show can't be impartial because Reubens does know Jack; he's his right hand man.
All is not lost in Spice World. The soundtrack to the upcoming Pokéman film, Mewtwo Strikes Back, features a song from Emma Bunton, formerly known as Baby Spice. Play it backwards and you hear, "My career is dead."
Heave ho Geraldo. Westwood One Entertainment reports Geraldo Rivera and his wife are filing for legal separation. Geraldo admits to being a womanizer who is afraid of intimacy. His wife says she stayed with the emotionally unavailable Rivera for 12 years hoping that there was a more communicative person hidden inside. She was disappointed to find that when Geraldo finally did open up there was nothing there.
Not dead yet? Crosby, Stills, Nash and Young have reunited to record their first studio album in more than a decade. The album, Looking Forward, is due out at the end of the month, almost 30 years after their debut LP. The new work features the original band members with one small change: Young is now going by Old.
Starry-eyed Romans. According to the Associated Press, recent renovations are making Rome seem less like Italy and more like Hollywood. The city council recently decided to name new streets after celebrities, including Marilyn Monroe, John Lennon, Greta Garbo, and Buster Keaton. Scott Baio's career is also being honored with a street bearing his name; it's a dead end.
Big headed. Westwood One Entertainment reports Mark Wahlberg has mellowed over the last few years. The Three Kings star says that in his early 20s he was extremely arrogant, and everybody knew it. He admits his days as a model gave him the reputation of being "cocky"… and we thought it was his role as Dirk Diggler in Boogie Nights.
Alienating organized religion, smart move. The Jesse Ventura interview in the November Playboy touches on a wide range of hot-button topics, including the NRA, politics, and religion. The Minnesota governor calls organized religion a "sham" and says that if people want integrity and truth they're looking in the wrong place. Perhaps they should turn to professional wrestling instead.
Melissa is a disc jockey at WBCN-FM and a music news reporter for Rage TV, both in Boston. She hopes someday to be a celebrity in her own right, and promises BizBuzz an exclusive.