Dr. Quinn To The Rescue
Inspiration for the suburban housewife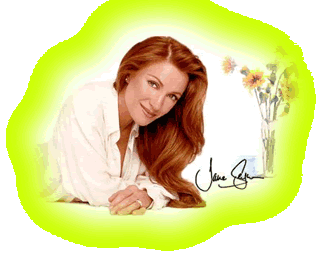 When Dr. Quinn, Medicine Woman aired its last episode in 1998, a great wailing emanated from cul-de-sacs and gated communities nationwide. The women of America's suburbs had lost their heroine, Dr. Michaela Quinn, a post-civil war doctor fighting sexism and disease, pursuing romance, and mothering her children on the Western frontier.
Played by British actress Jane Seymour, Quinn was someone who listless suburban housewives could admire (a doctor and a feminist), fantasize about (hunky pioneer men roam the Wild West in search of love), and most importantly, relate to (she's a mother; she's one of us). It's the same winning formula that has sold romance novels by the millions. Besides, what else is a devoted wife and mother going to do on Saturday nights?
Although Dr. Quinn is no more, Jane Seymour's personal Web site continues the good doctor's mission to entertain and inspire suburban female viewers. Like the television show that rescued her career from the wasteland of dismal TV movies, JaneSeymour.net sets its star on a pedestal high above the hoi polloi, while simultaneously reassuring her homely viewers that Jane is "just like them."
Topping the list of links on Jane's site is Family. Click and you get the following message: "Jane cherishes the time when she can be at home with her husband, actor-director James Keach, Katie, Sean and twins, Kristopher and John. Family is very important to Jane so as this site evolves we will feature and share what it's like to live in the Seymour-Keach home!" With just two sentences, Jane has established her street cred with the huddled masses of tract housing. Her priorities are their priorities. But if this were the sum of Jane's accomplishments, nobody would care.
We care about Jane because she belongs to that agent of wish fulfillment known as Hollywood! Click on Career and you'll learn about her early dramatic roles in Dallas Cowboys Cheerleaders (1979), Battlestar Galactica (1978), and the Roger Moore Bond movie, Live and Let Die (1973). Not only has Jane been strutting her drama stuff for more than two decades, but she and her smarmy-looking husband run a production company, Catfish Productions Inc., which "develops its own projects from material it carefully reviews for family values closely associated with those beliefs shared by Jane and James." Isn't that special? Dan Quayle would be so proud.
Four kids, a thriving career, a happy marriage, charity work (also touted on the site), her own production company: Jane does more in a day than most women do in a week. But wait! There's more!
"Jane is an acclaimed painter whose talents as a watercolor and sketch artist are acknowledged in the respected art book, Actors As Artists... She also recently co-authored two children's books with her husband." Acclaimed painter? Jane's paintings are sentimental, middlebrow dreck in pastel -- with creative titles like Flowers 1, Flowers 2, Flowers 3, and Sunflowers. She paints a beach with palm trees, a country road; and please don't miss her portrait of the artist as Dr. Quinn.
In addition to purchasing prints of her paintings from her Web site, empowered fans can follow instructions on how to "Paint with Jane" using an eyedropper and a felt pen. True devotees can download computer wallpaper inscribed with Jane's grammatically nonsensical recipe for happiness: "loving and being loved...feeling that you've made a difference...to help other people." Particularly fascinating is the live chat transcript where Jane enthusiasts asked her probing questions like, "What are your favorite colors?" and "Of all of the different haircolor products that Clairol makes, why did you choose Loving Care?"
Of her role on Dr. Quinn, Jane says, "I feel she inspires women to be the best that they can be. It's not about looks; it's not about money. It's about making a difference in her community and her family." Her Web site accomplishes the same goal.
On TV and online, Jane Seymour lives out the milquetoast fantasies of her fans, while reassuring them that what really matters in life is that you're a good little mother -- just like Jane.
Jenn Shreve is a freelance writer in San Francisco and a media columnist for Salon.com.