Bizbuzz
Janet Jackson, Brooke Shields, Anna Nicole Smith, and more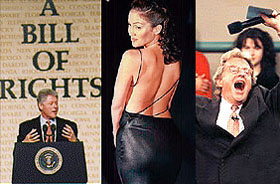 That's a stretch. TV Guide reports Kathie Lee Gifford is trying her hand at acting. The talk show host has agreed to do a made-for-TV movie in which she'll play a stage mom who is overprotective, meddling, and a braggart. Kathie Lee says when the project wraps up, she will continue to stretch her acting skills by portraying the manufacturer of a clothing line who employs underpaid, overworked Salvadoran women.
Love is blind.The National Enquirer reports Janet Jackson has been redecorating her house in the name of love. It seems the singer doesn't want her blind pet poodle to get hurt, so she's been spending thousands of dollars constructing fences, filling in light sockets, and rebuilding puppy-proof banisters. Word is, if the renovations are not successful at keeping "Puffy" safe, the diva wants to hire Verne Troyer ("Mini-Me") to be his seeing-eye person.
Suddenly bruising. Brooke Shields has been looking a little black and blue lately. The actress tells the Associated Press that her bruises stem from clumsiness. Shields says she's always walking into doorways and walls because her mind is "thinking about so many other things." Picturing Andre Agassi in bed with Steffi Graf must be quite distracting.
Movie music. Westwood One Entertainment reports R.E.M. front man Michael Stipe is continuing his work in the film industry. Stipe, who served as a producer for Velvet Goldmine and the upcoming movie Being John Malkovich, is wearing the producer's hat once again. This time the notoriously cocky singer is developing a movie called Thirteen Conversations About One Thing. Stipe says he holds this project especially close to his heart; the 13 conversations must be about his blue eyeliner.
Fall guy fallout. Minority stunt workers are calling for a boycott of all Viacom channels and products from October 8th through the 10th. InfoBeat reports the stunt doubles held a news conference this week claiming Hollywood's use of whites as stand-ins for minority actors is racist. Spokespeople for CBS, which is soon to be owned by Viacom, say that race isn't a factor in the hiring process and they simply choose to work with "the best people." That's doubtful; everybody knows white men can't jump.
Centerfold comeback. US magazine reports a drug-free, thinner Anna Nicole Smith is launching a comeback. The former Playboy Playmate has a lot on her plate nowadays, including a photo spread for In magazine, her own Web site, a starring role in an upcoming film, and a number of guest appearances on TV. Anna Nicole credits her slimmer physique to eating right, exercising, and appearing on Veronica's Closet; put anyone next to Kirstie Alley and Kathy Najimy and they're bound to look thin.
Get a life. E! network's The Gossip Show has been canceled. After a six-year run, poor ratings have forced the show off the air. It seems viewers finally had the good sense to realize that there are more productive ways to spend time than getting a cheap thrill off a one-liner at some unfortunate celebrity's expense.
Melissa is a disc jockey at WBCN-FM and a music news reporter for Rage TV, both in Boston. She hopes someday to be a celebrity in her own right, and promises BizBuzz an exclusive.