Sampras Snoozer
No aces served here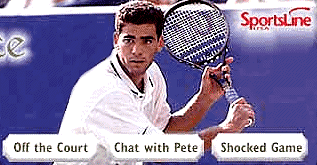 If you believe his Web site, Pete Sampras has been a spectator, both on and off the court, for the past two years. His 1998 and 1999 Wimbledon wins? Mirages. The record he set by ending last year as the world's number one tennis player for the sixth year in a row? Not recorded. His relationship with Father of the Bride actress Kimberly Williams? Well, actually, that ended late last year, but you'd never know it from his Web site, which sports a picture of the enchanted couple. His last diary entry blandly wishes us all a happy holiday season ­- in 1997.
There are a lot of things you could imagine a Sampras site might feature: instructional video clips, photos of the new house he's reportedly furnishing during his increasingly frequent injury breaks, X-rays of exactly what's wrong with his back with full medical explanations.
Instead, CBS SportsLine, which hosts and presumably created the site, seems to think tennis fans want the kind of glossy marketing brochure designed to make Sampras appeal to corporate sponsors. See "Sampras takes a ride in a Mercedes-Benz" (in which the unrecognizably helmeted guy getting into the racing car could be … well, Andre Agassi), and watch clips of Pete's commercials for Pizza Hut and RCA.
The one bright spot is the Sampras Tracker, which lets you look up his head-to-head record against other tour players. But that plus is neutralized by lame current news headlines, which recently trumpeted: "Wimbledon chief apologizes to Duchess of Kent." (Don't ask. It's a squalid little story about petty Club officials, kids, and the Royal Box.)
The problem for tennis marketing people is that both Sampras and his game are widely perceived as boring. "I could fall asleep forever," a tennis fan recently wrote of watching Sampras on the newsgroup rec.sport.tennis. Sampras has never been forthcoming with the press, which irks sports media and marketing people, and may explain recent efforts to try and personalize him.
USA Networks went so far as to attempt an in-depth interview with Sampras before he pulled out of this year's U.S. Open with a herniated disc. In a Dylanesque series of evasive non-comments, he came across as someone who thinks the key to being perceived as deep is looking like he's saying nothing on purpose. His site's echoing chat archives bear this out: empty, empty, empty.
Either Sampras has no fans, or they believe him when he says that his consuming quest to be one of the all-time tennis greats has left him with no life for them to chat about.
The question is, why isn't he using some of his passion for the game to enlist fans? You'd think for the $724,000 and change he got for winning Wimbledon this year, he could afford to hire his own Web designer and put on a show -­ even a fake show ­- that would give people the sense that he cared about something, even if it's only tennis.
Where are the great all-time records he's trying to beat? Or the pictures of his tennis heroes hitting the shots he's tried to copy? Or even a few hints for kids who want to learn to play? Better still: Adorn the site with pictures of Andre Agassi. That would bring the fans in.
Wendy M. Grossman is a recovering folksinger and a freelance writer based in London. She is author of the book net.wars and founder and co-editor of the British magazine The Skeptic.